Lecture/Seminar,
Special Event
13th Annual Pediatric Pain Master Class
UCSF Stad Center for Pediatric Pain, Palliative and Integrative Medicine
-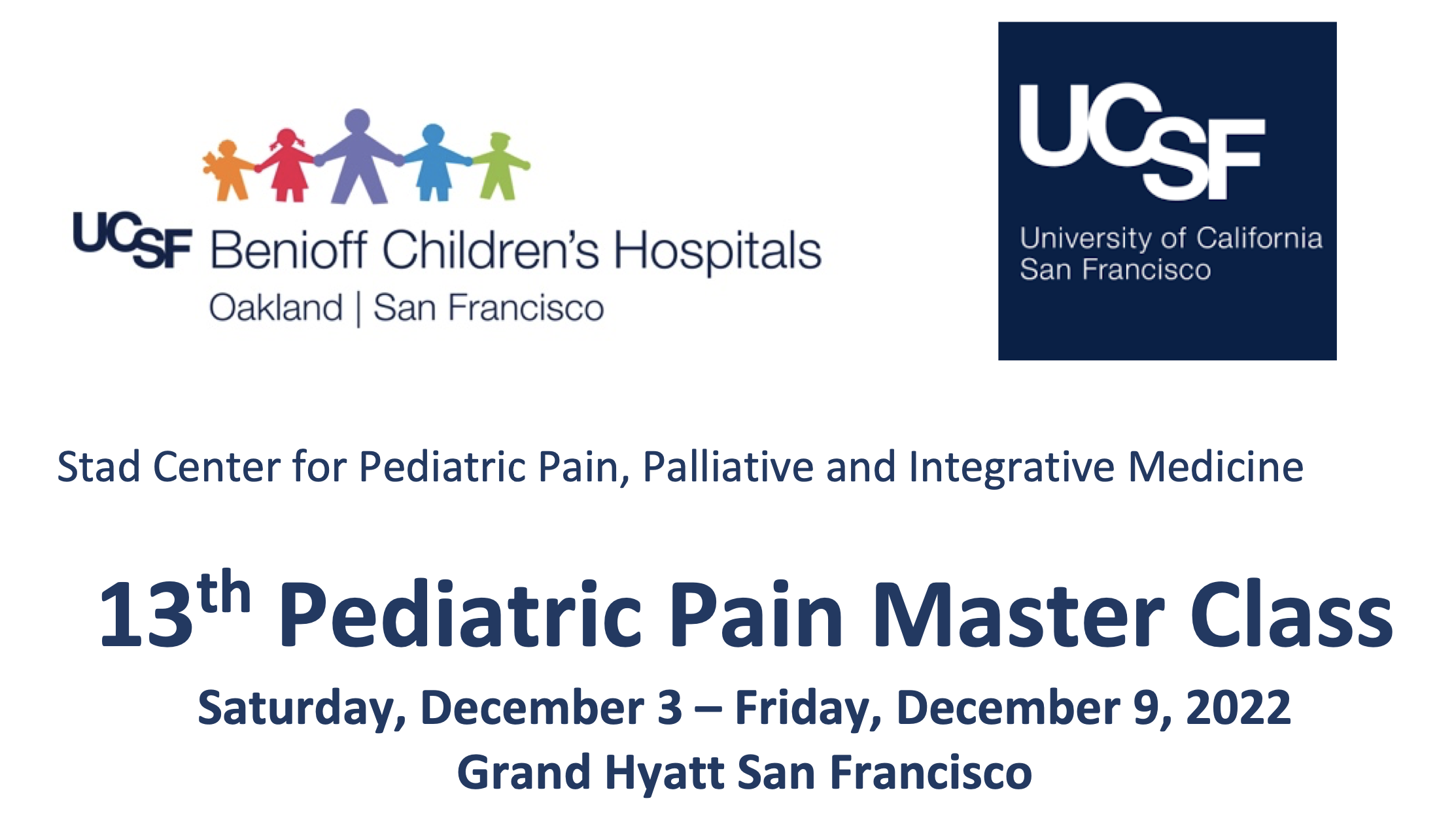 More information and registration here
Overview:
The Pediatric Pain Master Class offers state of the art education in pain management for the pediatric patient from a holistic and interdisciplinary perspective. The course features a faculty of internationally recognized experts who will cover pharmacological, medical, psychosocial and integrative therapies for the management of children's acute, procedural and complex/chronic pain. Assessment and management of somatic, visceral, neuropathic, psychosocial and spiritual pain, as well as end-of-life management of pain and distressing symptoms, will be explored in depth using lectures, interactive presentations, experiential activities and small-group learning.
Target Audience:
The master class is primarily designed for physicians and advanced practice nurses to develop their expertise in the field of pediatric pain medicine in a highly interactive seminar format. It is also open to other disciplines who work with pediatric patients.
Onsite and Remote Learning Options:
The course will be offered as a live conference. Registrants have the option to attend in person or to tune in remotely via zoom live stream during programming hours (Pacific Time). Login instructions along with the digital syllabus will be shared with attendees before the meeting. Included in your registration fee is access to the course recordings on demand after the conference and for 30 days after the course. You must tune in to live conference (in person or remotely) to claim CME.
Objectives:
By the end of this program, participants will be able to:
1. Describe evidence-based and best practice strategies for management of acute, chronic, procedural, and palliative pain situations in children.
2. Identify the broad continuum of pain and symptom management challenges and strategies in pediatric care.
3. Review safety and quality improvement approaches in pediatric analgesia.
4. Identify evidence-based approaches to assessing pain symptoms and overview developmental considerations in choosing assessment tools.
5. Describe pattern of opioid use in the United States.
6. Demonstrate comprehensive, evidence-based pain assessment strategies for children with diverse cognitive abilities and levels of consciousness.
7. Discuss WHO-principles of acute pain management and multi-modal analgesia.
8. Evaluate assumptions about opioid use in children.
9. Calculate opioid prescriptions, including steps for increasing dose, using case examples.
10. Describe best practice recommendations for use of opioids, including rationale for drug selection, novel routes of administration, opioid rotation and contraindications of this drug group.
11. Demonstrate how to address opioid-induced hyperalgesia.
12. Review advantages and disadvantages of methadone administration.
13. Evaluate potential adverse effects of methadone and difference of half-life compared to other opioids.
14. Practice opioid rotation to methadone in a case example.
15. Review the evidence for importance of managing procedural pain.
16. Describe importance of the "non-negotiable" components of needle pain management.
17. Describe innovative approaches to procedural pain, including nitrous oxide administration and "magic glove" (hypnosis technique).
18. Identify best practices for post-operative pain control.
19. Define chronic versus acute pain in children and review prevalence of chronic pain in children.
20. Discuss successful interdisciplinary approaches in managing functional pain syndromes in children and appreciate low importance of pharmacotherapy.
21. Identify factors associated with risk of developing chronic pain.
22. Describe an interdisciplinary model for management of chronic/persistent pain conditions.
23. Identify implications of family dynamics and psychosocial considerations in care planning and implementation of evidence based pain management interventions.
24. Describe importance of the role of family in children with pain.
25. Describe strategies for developing an interdisciplinary team approach to pain and symptom management.
26. Identify integrative strategies for pain and symptom management, including massage, biofeedback, hypnosis, aromatherapy and more.
27. Identify psycho-social and spiritual dimensions in pain and symptom management.
28. Explain physical therapy approaches to alleviate pain in children.
29. Appreciate high prevalence of neuropathic pain in children with serious illnesses.
30. Define neuropathic pain and describe main causes in pediatric patients.
31. Develop a step-by-step treatment approach for neuropathic pain.
32. Explain how to use adjuvant analgesia for management of neuropathic pain and complex pain.
33. Describe pharmacological and non-pharmacological symptom management at end of life.
34. Identify guidelines for implementing sedation for intractable pain in pediatric palliative care.
35. Appreciate similarities and differences in pain management and palliative care services in resource constrained settings.
36. Describe best practice approaches to neuro-irritability.
37. Explain strategies for networking with colleagues in this growing specialty field.
38. Overview how research methodology can be used to improve pediatric pain management.
Add to Calendar
2022-12-03 09:00:00
2022-12-09 18:00:00
13th Annual Pediatric Pain Master Class
More information and registration here Overview: The Pediatric Pain Master Class offers state of the art education in pain management for the pediatric patient from a holistic and interdisciplinary perspective. The course features a faculty of internationally recognized experts who will cover pharmacological, medical, psychosocial and integrative therapies for the management of children's acute, procedural and complex/chronic pain. Assessment and management of somatic, visceral, neuropathic, psychosocial and spiritual pain, as well as end-of-life management of pain and distressing symptoms, will be explored in depth using lectures, interactive presentations, experiential activities and small-group learning. Target Audience: The master class is primarily designed for physicians and advanced practice nurses to develop their expertise in the field of pediatric pain medicine in a highly interactive seminar format. It is also open to other disciplines who work with pediatric patients. Onsite and Remote Learning Options: The course will be offered as a live conference. Registrants have the option to attend in person or to tune in remotely via zoom live stream during programming hours (Pacific Time). Login instructions along with the digital syllabus will be shared with attendees before the meeting. Included in your registration fee is access to the course recordings on demand after the conference and for 30 days after the course. You must tune in to live conference (in person or remotely) to claim CME. Objectives: By the end of this program, participants will be able to: 1. Describe evidence-based and best practice strategies for management of acute, chronic, procedural, and palliative pain situations in children. 2. Identify the broad continuum of pain and symptom management challenges and strategies in pediatric care. 3. Review safety and quality improvement approaches in pediatric analgesia. 4. Identify evidence-based approaches to assessing pain symptoms and overview developmental considerations in choosing assessment tools. 5. Describe pattern of opioid use in the United States. 6. Demonstrate comprehensive, evidence-based pain assessment strategies for children with diverse cognitive abilities and levels of consciousness. 7. Discuss WHO-principles of acute pain management and multi-modal analgesia. 8. Evaluate assumptions about opioid use in children. 9. Calculate opioid prescriptions, including steps for increasing dose, using case examples. 10. Describe best practice recommendations for use of opioids, including rationale for drug selection, novel routes of administration, opioid rotation and contraindications of this drug group. 11. Demonstrate how to address opioid-induced hyperalgesia. 12. Review advantages and disadvantages of methadone administration. 13. Evaluate potential adverse effects of methadone and difference of half-life compared to other opioids. 14. Practice opioid rotation to methadone in a case example. 15. Review the evidence for importance of managing procedural pain. 16. Describe importance of the "non-negotiable" components of needle pain management. 17. Describe innovative approaches to procedural pain, including nitrous oxide administration and "magic glove" (hypnosis technique). 18. Identify best practices for post-operative pain control. 19. Define chronic versus acute pain in children and review prevalence of chronic pain in children. 20. Discuss successful interdisciplinary approaches in managing functional pain syndromes in children and appreciate low importance of pharmacotherapy. 21. Identify factors associated with risk of developing chronic pain. 22. Describe an interdisciplinary model for management of chronic/persistent pain conditions. 23. Identify implications of family dynamics and psychosocial considerations in care planning and implementation of evidence based pain management interventions. 24. Describe importance of the role of family in children with pain. 25. Describe strategies for developing an interdisciplinary team approach to pain and symptom management. 26. Identify integrative strategies for pain and symptom management, including massage, biofeedback, hypnosis, aromatherapy and more. 27. Identify psycho-social and spiritual dimensions in pain and symptom management. 28. Explain physical therapy approaches to alleviate pain in children. 29. Appreciate high prevalence of neuropathic pain in children with serious illnesses. 30. Define neuropathic pain and describe main causes in pediatric patients. 31. Develop a step-by-step treatment approach for neuropathic pain. 32. Explain how to use adjuvant analgesia for management of neuropathic pain and complex pain. 33. Describe pharmacological and non-pharmacological symptom management at end of life. 34. Identify guidelines for implementing sedation for intractable pain in pediatric palliative care. 35. Appreciate similarities and differences in pain management and palliative care services in resource constrained settings. 36. Describe best practice approaches to neuro-irritability. 37. Explain strategies for networking with colleagues in this growing specialty field. 38. Overview how research methodology can be used to improve pediatric pain management. More information and registration here
Department of Pediatrics
America/Los_Angeles
public