Academic,
Meeting,
Special Event,
Wellness
HEAT: Health Equity Action Time 2023
Focus on Child and Adolescent Mental Health  
-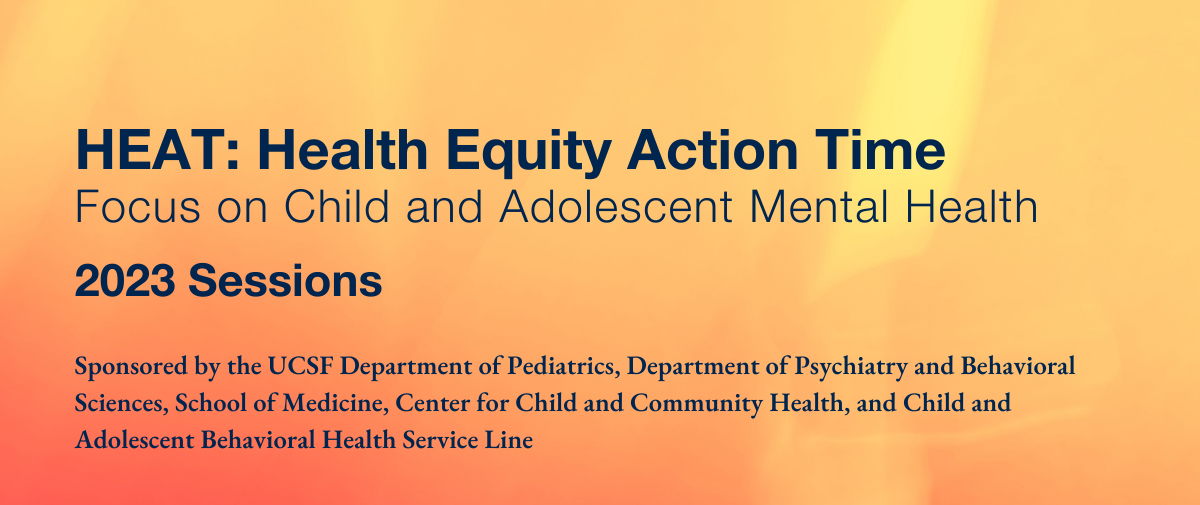 Series Details
HEAT is a dedicated multidisciplinary forum for child and adolescent providers, community organizations, policy leaders, health system partners, and advocates to come together and drive meaningful change. Our 2023 HEAT sessions will highlight the progress UCSF and local counties have made towards the priorities developed from the initial HEAT series and further identify barriers to care for patients with mental health, behavioral health and substance use needs. Full sessions from the 2022 HEAT series can be viewed here.
The interactive virtual series will take place on the second Friday of each month from 12-1 PM to foster learning, connection and identify actions needed to strengthen the system of care for children, adolescents and their families.
An ongoing emphasis will be placed on provider burnout and strategies to enhance their wellbeing, resilience and retention, as well as DEI and antiracism effort to reduce disparities and improve equity.
In this follow-up series, we will:
Highlight progress toward priorities identified from the last HEAT series. 
Identify and discuss ongoing opportunities and barriers to implementing change.
Take steps to leverage opportunities and remove barriers.
June 9th Session
In this second session, we continue to think through the process of accessing resources to support a patient's mental health needs.

Speakers include Quarry Pak, Supervisor of Student and Family Services at San Francisco Unified School District (SFUSD), and Dr. Petra Steinbuchel, Child & Adolescent Psychiatry Portal (CAPP) Director.
May 12th Session
The kick-off webinar on May 12 grounded our discussion in a case that highlights various touchpoints across systems to support the mental and behavioral health of children, youth and young adults, as well as the people who care for them.   
Speakers included experts from psychiatry and behavioral health, the school district and health plans.
Contact Information:
Cassandra Vega, Project Manager 
UCSF Center for Child and Community Health
[email protected]  
Add to Calendar
2023-06-09 12:00:00
2023-06-09 13:00:00
HEAT: Health Equity Action Time 2023
Series Details HEAT is a dedicated multidisciplinary forum for child and adolescent providers, community organizations, policy leaders, health system partners, and advocates to come together and drive meaningful change. Our 2023 HEAT sessions will highlight the progress UCSF and local counties have made towards the priorities developed from the initial HEAT series and further identify barriers to care for patients with mental health, behavioral health and substance use needs. Full sessions from the 2022 HEAT series can be viewed here. The interactive virtual series will take place on the second Friday of each month from 12-1 PM to foster learning, connection and identify actions needed to strengthen the system of care for children, adolescents and their families. An ongoing emphasis will be placed on provider burnout and strategies to enhance their wellbeing, resilience and retention, as well as DEI and antiracism effort to reduce disparities and improve equity. In this follow-up series, we will: Highlight progress toward priorities identified from the last HEAT series.  Identify and discuss ongoing opportunities and barriers to implementing change. Take steps to leverage opportunities and remove barriers. June 9th Session In this second session, we continue to think through the process of accessing resources to support a patient's mental health needs. Speakers include Quarry Pak, Supervisor of Student and Family Services at San Francisco Unified School District (SFUSD), and Dr. Petra Steinbuchel, Child & Adolescent Psychiatry Portal (CAPP) Director. Heat june 9 video recording Heat june 9 slides.pdf May 12th Session The kick-off webinar on May 12 grounded our discussion in a case that highlights various touchpoints across systems to support the mental and behavioral health of children, youth and young adults, as well as the people who care for them.    Speakers included experts from psychiatry and behavioral health, the school district and health plans. HEAT May 12 Video Recording Heat May 12 sildes.pdf   Contact Information: Cassandra Vega, Project Manager  UCSF Center for Child and Community [email protected]  
[email protected]
Department of Pediatrics
America/Los_Angeles
public