Children's Health Advocate Moses Grossman Has Died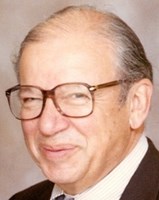 Emeritus Professor of Pediatrics Moses (Misha) Grossman, MD, a passionate advocate for children's welfare, died peacefully last week at the age of 96. He served as chief of Pediatrics at Zuckerberg San Francisco General Hospital for more than 30 years, where he oversaw the clinical care of the city's most vulnerable children and trained generations of pediatric residents. In his long career, Grossman also served as vice chair of the Department of Pediatrics and associate dean for the UCSF School of Medicine.
Born in the Ukraine, Grossman left Kiev at age six when his family migrated to Harbin, China. He received his early education there in German, Russian, and English schools. Grossman began his medical studies in Hong Kong, but immigrated to the United States in 1941, when war seemed likely. He finished his premedical studies at UC Berkeley and then earned his medical degree at UCSF under an accelerated wartime training program. After serving two years in the U.S. Army Medical Corps as a captain, he completed his pediatric residency at UCSF and joined the UCSF faculty in 1951, where he remained until his retirement in 1993.
Grossman had a particular interest in pediatric infectious diseases, and began his career in an era when there were almost no vaccines or antibiotics for their prevention and treatment. He published more than 70 articles over the decades, including work on chlamydial infection in newborns. He served as an associate editor of Ruldoph's Textbook of Pediatrics and as an editor of the first edition of A Quick Reference to Pediatric Emergencies.
In his role as an advocate, Grossman founded the San Francisco Child Abuse Council, the forerunner of the San Francisco Child Abuse Prevention Center (now called Safe & Sound). He also served as the first chair of The California AIDS Leadership Committee on Pediatric and Perinatal AIDS. For his years of service to the community and UCSF, he received the UCSF Medal in 2001.
Grossman is survived by his four children and many grandchildren. He was predeceased by his beloved wife, Verle, a pediatric nurse he met during his residency year at Bellevue Hospital in New York.
Donations in his honor can be made to the Moses and Verle Grossman Fund for Children's Health at the SFGH Foundation. P.O. Box 410836, San Francisco, CA 94141-0836.