Ellen Laves Elected to Haile T. Debas Academy of Medical Educators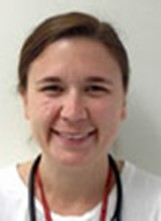 Ellen Laves, MD, assistant professor of pediatrics, has been selected for membership into
The Haile T. Debas Academy of Medical Educators
. Laves and other new members will be formally welcomed into the Academy at a celebration on the Parnassus campus on September 11, 2017. She joins 19 other faculty of the Department of Pediatrics who have been honored with membership in this organization. The Academy is dedicated to creating an environment that enhances the status of teachers at UCSF, promotes and rewards teaching excellence, fosters curricular innovation and encourages scholarship in medical education.
Membership results from a rigorous selection process, including the review of each applicant's packet by a team of internal reviewers as well as external reviewers who are nationally and internationally known in medical education and faculty development. Laves previously received an Excellence in Teaching award from the Academy in 2014.
Laves's clinical work is based at Zuckerberg San Francisco General Hospital, where she provides direct patient care and supervises pediatric, family and community medicine, and emergency medicine residents. Laves also directs the pediatric residency simulation curriculum at the Kanbar Center for Simulation, Clinical Skills and Telemedicine Education. She has a special research focus on how instructors can enhance procedural education both at the bedside and by using simulation-based medical education.
Written by Leslie Lingaas