New Center Shines Spotlight on Chronic Illness in Children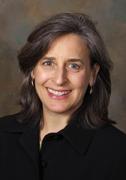 With improvements in the treatment of previously fatal diseases, more children are surviving into adulthood with chronic health conditions––an estimated 5 million children and adolescents in the United States alone. These young people face a lifetime of disease, and many develop new problems as a result of long-term exposure to their underlying condition or to medications used in treatment. These secondary problems can include abnormalities in growth, premature osteoporosis, cardiovascular disease, malignancies, and emotional and social problems.
To address these issues, Rheumatology Division Chief Emily von Scheven, MD, is leading the creation of a new Child and Adolescent Chronic Illness Center, which will work across disciplines and departments. The goal is to develop innovative approaches to care that address the unique challenges faced by children growing up with chronic illness. The center will also conduct research to inform best practices for management challenges that are shared by a range of chronic illnesses, including diabetes, epilepsy, cystic fibrosis, autoimmune diseases, congenital heart disease or cancer.
"Our current health care system is designed to manage acute illness that can be treated and cured, not chronic conditions with ongoing care demands," said von Scheven.
Addressing the health care needs of children with chronic disease requires a different approach, said von Scheven, who has set up programs within the Division of Rheumatology to deal with chronic care challenges in children with lupus.
"We need to think about preventive care differently for children who will carry their disease with them into adulthood," said von Scheven. "Patients and their families want to know what can be done now, during childhood, to prevent problems from developing later, and to optimize health and wellness over the entire lifetime of their child."
Von Scheven noted that pediatric patients with chronic illness have the added challenge of transitioning from the pediatric to adult care settings as they age. They need to assume responsibility for managing health care and insurance coverage issues previously handled by their parents. And if this process does not go well, patients are at risk for disease flares, and sometimes even death.
In addition to improving care delivery for children living with chronic illness, the new center will provide a base for conducting research to answer a range of pressing questions. Which is better for preventing future osteoporosis, calcium and vitamin D or calcium alone? Are statins better than diet alone in young people for preventing dyslipidemia and atherosclerosis? Do group or individual trainings work better to teach disease self-management and prepare patients for transitioning to adult care settings?
The center is bringing together a diverse group of stakeholders, including UCSF physicians from a range of disciplines, nurses, medical social workers, representatives of community agencies and patients and families to tease out the issues common to the chronic illness experience. Von Scheven received a grant from the Patient-Centered Outcomes Research Institute (PCORI) to support the initial work of bringing together the stakeholders and determining which research areas patients and caregivers want to prioritize. Over 30 individuals attended a one-day retreat in November 2016 to discuss the center's goals and to develop first steps in outreach and communication.
In addition to project leader von Scheven, the team includes Juno Duenas of Support for Families, Ben Meisel, MD, of California Children's Services, Becky Higbee Sumner, MA, CCLS, of the UCSF Family Advisory Council, and several UCSF faculty including Megumi Okumura, MD and Erica Lawson, MD who are leading a work-group focused on information transition.
For more information about the Child and Adolescent Chronic Illness Center, contact Emily von Scheven, MD, at 415-502-6627 or [email protected]
Story by Leslie Lingaas