Pediatric Nephrology Celebrates 50 Years
The Division of Pediatric Nephrology celebrated its 50th anniversary in October with an academic symposium followed by a patient and family event at UCSF Benioff Children's Hospital.
"We wanted to reflect on our many achievements over five decades," said the division's acting chief, Farzana Perwad, MD.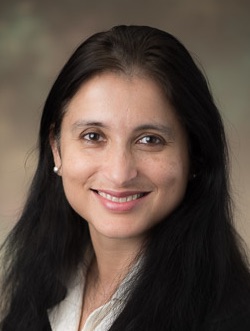 The academic symposium, held on Friday, Oct 14, was attended by approximately 50 current and former fellows and faculty. It offered a look back at seminal moments in the history of pediatric nephrology at UCSF and an update on graduates' current research pursuits. The day also provided an opportunity for colleagues to have a look at the Children's Renal Center's new Mission Bay location.
The late Malcolm Holliday, MD, who headed the division from its creation in 1966, through the mid 1980s, was remembered for his many career accomplishments, including development of the Holliday-Segar equation, still used today as the standard method to determine maintenance IV fluid requirements in children.
Donald Potter, MD, the first of 60 fellows to train in the division and a UCSF professor of nephrology for many years, reminisced on the establishment of the pediatric kidney transplant program, and what is was like to single-handedly perform dialysis for children with kidney failure. Anthony Portale, MD, who recently stepped down from his role as the division's second chief after 27 years, joined Perwad in describing the laboratory and clinical research being conducted at UCSF in X-linked hypophosphatemia (XLH). UCSF is one of five pediatric centers in the United States participating in a new clinical trial of a treatment for children with XLH, a rare genetic disorder that causes renal phosphate wasting and bone disease.
On Saturday, Oct 15th, the focus was on the many patients with kidney disease who have been treated over the past several years at UCSF. Kidney transplant, dialysis, and general nephrology patients, along with their families, were invited to a health fair at UCSF Benioff Children's Hospital. Its many attractions included an ask-the-expert booth, where children could query a doctor with any medical question, a dermatology booth that offered information on how transplant patients can protect themselves from skin cancer, and a chance to meet police and fire personnel.
"The renal team worked hard to make the anniversary celebration a memorable experience for former UCSF nephrology fellows, for patients who have been under our care for several decades, and for our present faculty, staff and fellows," said Perwad. "I graduated from this fellowship program, and it was gratifying to see how far we have come as a division at UCSF."