Pediatric Residency Training
UCSF is committed to helping you individualize your education to achieve your career goals.
We have five Programs (Categorical, PLUS, Child Neurology, Molecular Medicine and Pediatric Genetics), three clinical Tracks (Primary Care, General/Categorical, and Subspecialty Medicine) and four Pathways (Clinical & Translational Science, Global Health Science, Health Equity And Racial (HEAR) Justice and Health Professions Education,) available to enrich your training.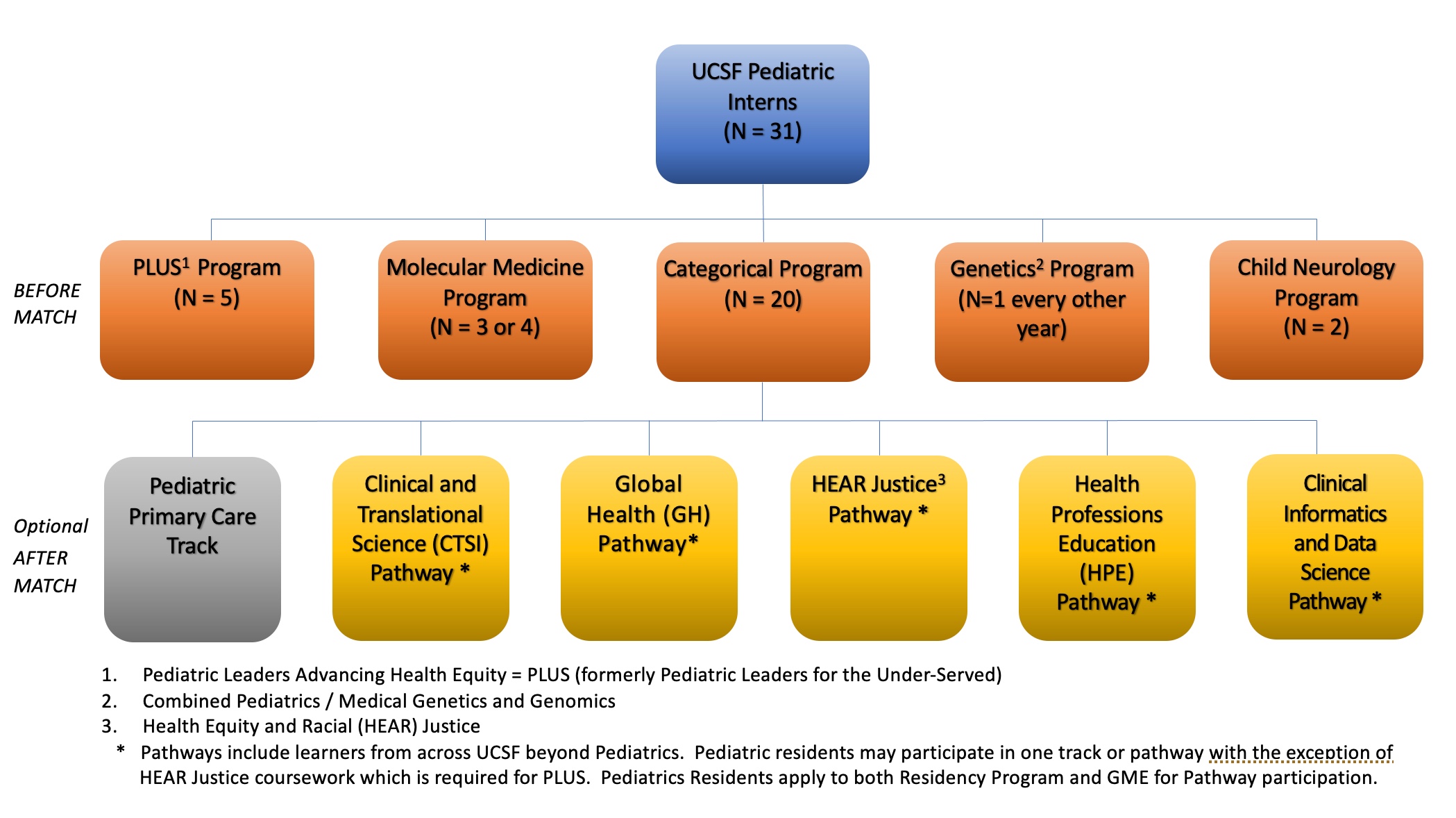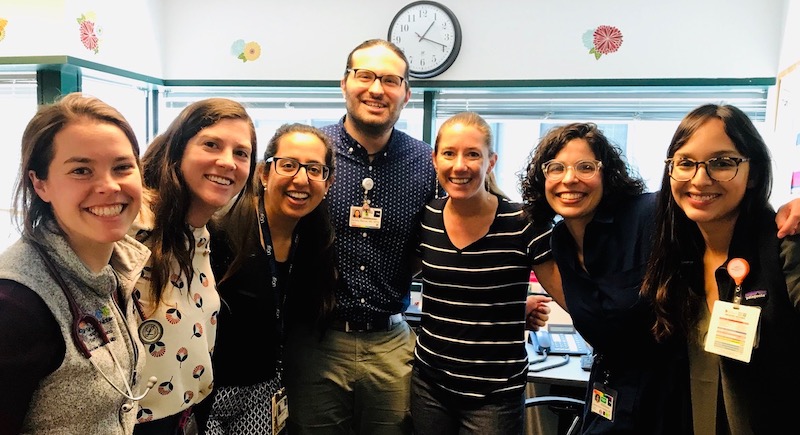 PROGRAMS
Medical school graduates enter one of our Programs through the Match: Categorical, PLUS, Child Neurology, Molecular Medicine and Medical Genetics and Genomics Programs each have separate ERAS application markers and unique NRMP numbers. Differences between the Programs are described below, but all share a common core curriculum of general and subspecialty-based pediatric experiences in inpatient, ambulatory, newborn, and neonatal/pediatric intensive care settings.
Categorical Program
PLUS: Pediatric Leaders Advancing Health Equity Program
Child Neurology Program
Molecular Medicine Program
Medical Genetics and Genomics
Follow this link to see an example of a typical block schedule 
Read about a day in the life of our residents on the wards
Categorical Program
The goal of the Categorical Program is to provide outstanding clinical training to prepare residents to enter any field of general or subspecialty pediatrics. Residents spend one half day of each week in Continuity Clinic and augment core rotations with subspecialty experiences and electives. Residents in this program are eligible to participate in one of three clinical tracks (Primary Care, General, Specialty) and/or one of four interest-based pathways. We encourage applications to this program from applicants who have broad interests, undifferentiated interests, and interests in primary care as well as traditional academic and subspecialty careers.
PLUS: Pediatric Leaders Advancing Health Equity
Developed from a desire to address health inequities suffered by children both in the United States and around the world, as well as the urgency to train pediatricians to lead change in the health care system, the UCSF Pediatrics Residency Program developed the innovative PLUS program.
Learn more about the PLUS program
Child Neurology Program
The UCSF Child Neurology Residency Program is widely considered among the top child neurology training programs in the country. The program vies with other top ranked programs to attract the brightest and most talented future child neurologists with the goal of training our future colleagues in the field, to become excellent clinicians, researchers and educators. The Child Neurology training program accepts a diverse array of trainees, with variable goals for their future. Our goal is to provide trainees with a breadth of experience in the field, and to allow them to pursue their passions and develop into leaders in our field.
Learn more about the Child Neurology program
Molecular Medicine Program
The Molecular Medicine Program is designed for individuals who are interested in pursuing a career that emphasizes bench research in combination with the practice of medicine. The overarching goal of the program is to train the next generation of transformative laboratory-based physician-scientists. We screen all applicants to identify individuals who have demonstrated outstanding potential for a physician-scientist career. Those applicants who have demonstrated a commitment to and productivity in biomedical research are invited to consider the Molecular Medicine Program. This does not require dual MD/PhD degrees.
Learn more about the Molecular Medicine Program
Medical Genetics and Genomics
The Medical Genetics Residency Program in Medical Genetics in the Department of Pediatrics at the University of California, San Francisco (UCSF) offers a comprehensive, supervised residency program for two years in order to train outstanding geneticists and future leaders in pediatric genetics. Training includes a minimum of 18 months of clinical rotations with exposure to a wide range of genetic disorders, 6 weeks of rotations in diagnostic laboratories and 4.5 months of elective/scholarly activity. Individualized mentoring is available to prepare trainees for careers in academic medicine. Categorical training in Medical Genetics or combined training with Maternal Fetal Medicine or with Pediatrics is available. The residency program is ACGME-certified and is designed to satisfy the requirements for the American Board of Medical Genetics and Genomics (ABMGG). The residency is suitable for individuals planning a career in genetic medicine who have at least one year's experience in an ACGME-approved residency program.
Learn more about the Medical Genetics and Genomics Program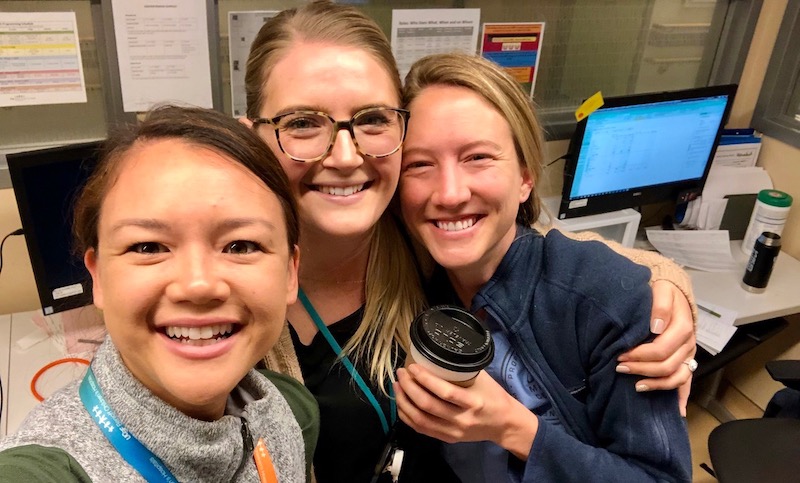 TRACKS
Residents who match into the categorical program may choose to participate in one of three clinical tracks (General, Primary Care, and Pediatric Subspecialty Medicine) that are designed to build skills unique to a particular area of clinical pediatrics. Residents apply to participate in the Primary Care track after matching with UCSF, but before starting residency training. Residents apply to participate in the Subspecialty Pediatrics tracks about half-way through their first year of training. Participating in clinical tracks should be considered exploration and in no way represent a commitment to that career path.
Primary Care Track
UCSF Pediatric Primary Care Track residents are trained in clinic and community-based approaches to child health. A growing model in pediatrics is the bridging of primary care with community health. Throughout their training, residents are exposed to multiple facets of primary care via "primary care days" as well as seminars, resident meetings and a three-month longitudinal block in the third year. During the longitudinal block, primary care residents have time specifically dedicated to their own community and/or primary care research project as we enhanced outpatient experiences and primary care-related subspecialty experiences.
Learn more about the Primary Care Track 
Subspecialty Pediatrics Track
Our Subspecialty Pediatrics Track is designed for residents interested in learning more about careers in subspecialty pediatrics. Residents in this track have the opportunity to explore subspecialty pediatrics in more depth, including the opportunity to spend extended time on a specific subspecialty service. Depending on interest, residents may have the opportunity to serve as an acting fellow on a particular subspecialty. Finally, residents may have the opportunity to complete their third year of continuity clinic in a subspecialty clinic. Extended research experiences can also be arranged.
General Track
The General Track is the core of our training program for categorical residents who choose not to pursue another specifically designated track. This track provides robust clinical training to prepare graduates for careers in primary care, hospitalist, or subspecialty pediatrics. This track is ideal for residents who are uncertain of what area of pediatrics they want to pursue, and no application is necessary.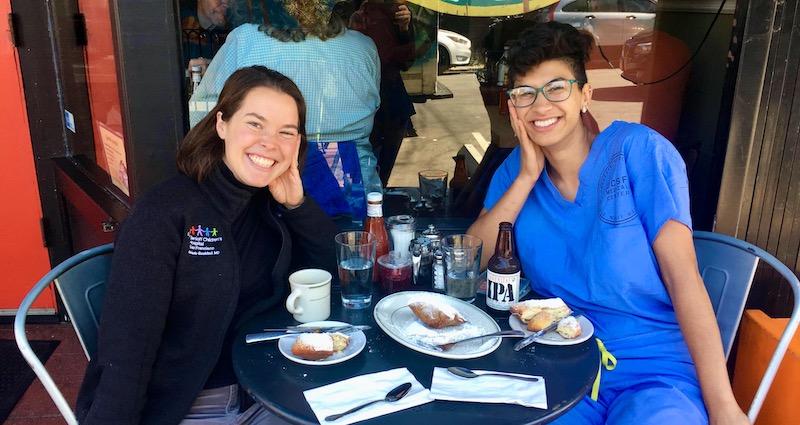 PATHWAYS
About half-way through the first year of training, residents in all Tracks (except for Primary Care) have the option of applying to participate in one of our interest-specific Pathways. Pathways provide a way for residents to build on their individual interests and passions or as a way to explore new interests and passions. The central feature of most Pathways is an expectation to complete coursework and a mentored longitudinal project (for which we provide protected time). Residents typically apply to a Pathway during their first year of training.
Global Health Scholars
This is a multi-school, multi-residency program for those interested in careers in global health. The program seeks applicants at the PGY-2 or beyond with a specific commitment to global health. Future plans may include clinical wok, research, and program or policy development relating to global health. Participants obtain clinical experience in a developing country, join a local community of like-minded faculty and trainees from a variety of specialties and disciplines, participate in didactic curriculum specifically addressing issues of global health and complete a mentored scholarly project relating to global health. Participants may take up to 2 years to complete their project and immersion experience and will remain part of the program through the remainder of their residency.
Learn more about the Global Health Scholars pathway 
Clinical and Translational Science
The goal of this Pathway is to build resident skills in clinical research design and biostatistics. This is a great option for residents considering a career in clinical research. This pathway builds on the pediatrics department's strong relationship with the Clinical and Translational Science Institute at UCSF, and includes formal course work in research design as well as a cohort-based mentoring program and mentored longitudinal project.
Learn more about the Clinical and Translational Science Pathway
Health Professions Education
This Pathway aims to prepare residents for a career in medical education. It is integrated with the Health Professions Pathways to Discovery program in the UCSF School of Medicine. Residents complete formal course work in medical education and curricular design, as well as complete a mentored scholarly project.
Learn more about the Health Professions pathway
HEAR Justice: Health Equity and Racial Justice Pathway
The HEAR Justice Pathway engages learners in conversations, skill building, and reflection around improving health outcomes for people of color, promoting equity in the medical workforce, and actively dismantling systems of oppression that perpetuate health inequities. Learners will explore issues of race, identity, privilege and bias through discussion, experiential learning, community engagement, and critical self-reflection.
Learn more about the HEAR Justice pathway