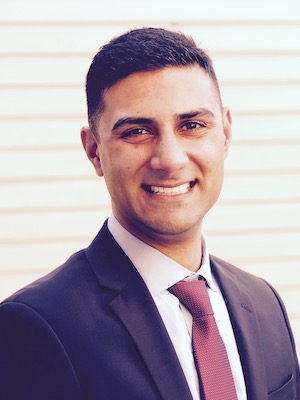 Imran Khan, MD, PhD
Education:
2003-2007: UC Berkeley, BA Molecular and Cell Biology (Immunology)
2010-2014: UCSF, PhD Biomedical Sciences (Immunology)
2008-2016: UCSF, MD (School of Medicine)
Residencies:
2016-2018: UCSF, Pediatrics
Fellowships:
2018-present: UCSF, Neonatology
Board Certification:
CA Licensure
Research Interests:
Perinatal infection and inflammation
Lung development
Lung injury and repair
Bronchopulmonary dysplasia
Pulmonary hypertension
Research Mentors:
Dean Sheppard, MD
Biography:
Dr. Imran Khan is a first-year clinical fellow in Neonatal-Perinatal Medicine at UCSF. He attended UC Berkeley where he majored in Molecular and Cell Biology with an emphasis in immunology. He then attended UCSF as part of the Medical Scientist Training Program where he earned a combined MD/PhD degree with a PhD in immunology. He completed his graduate school research under the mentorship of Dr. Mark Anderson, and his work explored the role of the thymus in orchestrating T cell development and immune tolerance. Dr. Khan completed his residency training in Pediatrics before starting his neonatology fellowship at UCSF. He recently joined Dean Sheppard's research lab in the Cardiovascular Research Institute and is interested in studying the mechanisms by which perinatal inflammation contributes to aberrant lung development.
Publications:
Miller CN, Proekt I, von Moltke J, Wells KL, Rajpurkar AR, Wang H, Rattay K, Khan IS, Metzger TC, Pollack JL, Fries AC, Lwin WW, Wigton EJ, Parent AV, Kyewski B, Erle DJ, Hogquist KA, Steinmetz LM, Locksley RM, Anderson MS. Thymic tuft cells promote an IL4-enriched medullary microenvironment and shape thymocyte development. Nature. In Press.
Bakhru P, Zhu ML, Wang HH, Hong LK, Khan I, Mouchess M, Gulati AS, Hou Y, Sailer D, Lee S, Zhao F, Kirkwood JM, Moschos S, Fong L, Anderson MS, Su MA. Combination Central Tolerance and Peripheral Checkpoint Blockade Unleashes Antimelanoma Immunity. JCI Insight. 2017 Sep 21;2(18).
Khan IS, Park CY, Mavropoulos A, Shariat N, Pollack JL, Erle DJ, McManus MT, Anderson MS, Jeker LT. Identification of miR-205 as a microRNA that is highly expressed in medullary thymic epithelial cells. Plos One. 2015 Aug 13; 10(8):e0135440.
Landegren N, Sharon D, Shum AK, Khan IS, Fasano KJ, Hallgren Å, Kampf C, Freyhult E, Ardesjö-Lundgren B, Alimohammadi M, Rathsman S, Ludvigsson JF, Lundh D, Motrich R, Rivero V, Fong L, Giwercman A, Gustafsson J, Perheentupa J, Husebye ES, Anderson MS, Snyder M, Kämpe O. Transglutaminase 4 as a prostate autoantigen in male subfertility. Sci Transl Med. 2015 Jun 17;7(292):292ra101.
Khan IS, Mouchess ML, Zhu ML, Conley B, Fasano KJ, Hou Y, Fong L, Su MA, Anderson MS. Enhancement of an anti-tumor immune response by transient blockade of central T cell tolerance. J Exp Med. 2014 May 5;211(5):761-8.
Khan IS, Taniguchi RT, Fasano KJ, Anderson MS, Jeker LT. Canonical microRNAs in thymic epithelial cells promote central tolerance. Eur J Immunol. 2014 May;44(5):1313-9.
Waterfield M, Khan IS, Cortez JT, Fan U, Metzger T, Greer A, Fasano K, Martinez-Llordella M, Pollack JL, Erle DJ, Su M, Anderson MS. The transcriptional regulator Aire coopts the repressive ATF7ip-MBD1 complex for the induction of immunotolerance. Nat Immunol. 2014 Mar;15(3):258-65.
Metzger TC, Khan IS, Gardner JM, Mouchess ML, Johannes KP, Krawisz AK, Skrzypczynska KM, Anderson MS. Lineage tracing and cell ablation identify a post-Aire-expressing thymic epithelial cell population. Cell Rep. 2013 Oct 17;5(1):166-79.
Parent AV, Russ HA, Khan IS, LaFlam TN, Metzger TC, Anderson MS, Hebrok M. Generation of functional thymic epithelium from human embryonic stem cells that supports host T cell development. Cell Stem Cell. 2013 Aug 1;13(2):219-29.
Mohapatra S, Kawahara M, Khan IS, Yannone SM, Povirk LF. Restoration of G1 chemo/radioresistance and double-strand-break repair proficiency by wild-type but not endonuclease-deficient Artemis. Nucleic Acids Res. 2011 Aug;39(15):6500-10.
Xiao Z, Dunn E, Singh K, Khan IS, Yannone SM, Cowan MJ. A non-leaky Artemis-deficient mouse that accurately models the human severe combined immune deficiency phenotype, including resistance to hematopoietic stem cell transplantation. Biol Blood Marrow Transplant. 2009 Jan;15(1):1-11.
Yannone SM, Khan IS, Zhou RZ, Zhou T, Valerie K, Povirk LF. Coordinate 5' and 3' endonucleolytic trimming of terminally blocked blunt DNA double-strand break ends by Artemis nuclease and DNA-dependent protein kinase. Nucleic Acids Res. 2008 June; 36(10): 3354–3365.