About Us
The Division of Pediatric Oncology combines internationally recognized treatment and research in pediatric cancers and blood disorders with a commitment to exceptional physician training. Our faculty is particularly known for work in childhood cancers such as leukemia, lymphoma, brain tumors, neuroblastoma, sarcomas and retinoblastoma. Pediatric blood specialists provide expert care for children with clotting and bleeding disorders including hemophilia, thalassemia and sickle cell disease. 
Advancing Treatment through Research
Cancer therapy works best when it can be tailored to each patient's disease. Our division is engaged in laboratory studies to understand the genetic mutations that trigger malignancies such as leukemia, brain tumors and neuroblastoma, with the goal of devising therapies that target these mutations. Our faculty members collaborate with colleagues from around the country to translate information gleaned in the laboratory into personalized treatments that can help young patients. We offer access to clinical studies ranging from early trials of promising therapies to advanced trials conducted in large populations. Many of our physicians serve as leaders in national oncology research consortiums, including the Children's Oncology Group and groups that guide clinical studies of neuroblastoma and pediatric brain tumors.
Our hematologists participate in a variety of national collaborative studies that seek to improve treatments for thalassemia, sickle cell anemia, and bleeding and clotting disorders. As part of the Thalassemia Clinical Research Network and a National Institutes of Health-funded Sickle Cell Center, we pursue new avenues of investigation and offer comprehensive care for young patients with these diseases. The North Coast Regional Hemophilia program cares for children with bleeding disorders and participates in research to develop improved treatments for hemophilia and its complications.
Exemplary Care for Patients
Our hematology/oncology team understands that treatment is an intensely personal experience for each child and family. We draw not only on the expertise of multidisciplinary physicians, but also on supportive care from nurse specialists, psychologists, social workers and child life specialists. We work closely with the UCSF Pediatric Blood and Marrow Transplant team, which provides a range of transplant options for selected children with cancer and blood diseases.
Treatment for cancer and blood diseases is constantly evolving and so are our concepts of treatment facilities. With the move of UCSF Benioff Children's Hospital to UCSF Mission Bay in 2015, our division will provide compassionate, patient-centered.
Exceptional Educational Opportunities
At UCSF, our educational efforts are intertwined with our patient care and research programs. Medical students and residents rotate through our service, and we offer a highly competitive three-year fellowship program that trains the next generation of clinician-researchers in the care of children with malignancies or diseases of the blood and blood-forming organs. We provide our fellows with the skills and strategies they need to carry out this demanding work in academic medicine or community settings.
Our History
UCSF's Division of Pediatric Hematology and Oncology began in the 1950s with its first Chief, Peter Dallman, a Harvard and Columbia-trained pediatrician and expert in iron nutrition and iron metabolism. Dallman's successor as division chief was William Mentzer, a pediatric hematologist trained by David Nathan, a worldwide expert in sickle cell anemia, and Louis Diamond, the "founding father" of pediatric hematology. Mentzer was internationally recognized for his contributions in the fields of hemoglobinopathies, enzymopathies, and red cell membrane diseases. He developed a very successful clinical program caring for patients with these diseases at UCSF. Marion Koerper subsequently established the first subdivision of pediatric bleeding disorders, now a comprehensive coagulation service headed by James Huang.
The 1950s was also an exciting time for pediatricians interested in cancers. Sidney Farber had recently discovered that folate analogs similar to methotrexate could induce remission in children with acute lymphoblastic leukemia, offering the first hope that this terrible disease could be cured. Here at UCSF, three volunteer, part-time pediatricians who had trained with either Farber himself or Guido Fanconi (for whom Fanconi anemia was named) used the rapidly expanding arsenal of chemotherapeutic agents that were being discovered during this decade to provide highly personal clinical care in the new field of pediatric oncology. 
In the 1970s, led by the efforts of Art Ablin, a broad group of pediatric subspecialists demonstrated dedication and eagerness to cooperatively participate in the treatment of the steadily increasing number of children with malignant disease who were referred to UCSF. In 1972, UCSF became one of the earlier members of the Children's Cancer Group, an organization that systematically studied pediatric malignancies and was responsible for rapidly improving survival rates of children with cancer over the subsequent decades. Very soon, members of UCSF's team played leadership roles in national clinical trials of therapy for neuroblastoma, hepatoblastoma, and germ cell tumors, including supportive care. These were followed by similar studies in leukemia, bone and soft tissue tumors.
Kevin Shannon, present director of UCSF's Medical Scientist Training Program, leader of the Hematopoietic Malignancies Program at the Helen Diller Family Comprehensive Cancer Center, and head of an active molecular oncology laboratory, and Kate Matthay, present chief of the Division of Pediatric Hematology and Oncology and leader of the Pediatric Malignant Diseases Program at the Cancer Center were among the earliest fellows at UCSF, and have played key roles in the rapid expansion of a nationally and internationally recognized Pediatric Hematology and Oncology Division. Today at UCSF, pediatric patients and their families find the highest quality clinical care available anywhere in the world, delivered by a large staff composed of every pediatric hematologic and oncologic subspecialty. An active basic, translational and clinical research program is in full swing, and fellows are trained as physician scientists ready to carry out the most modern treatments and conceive new therapies for future generations. 
Division Leadership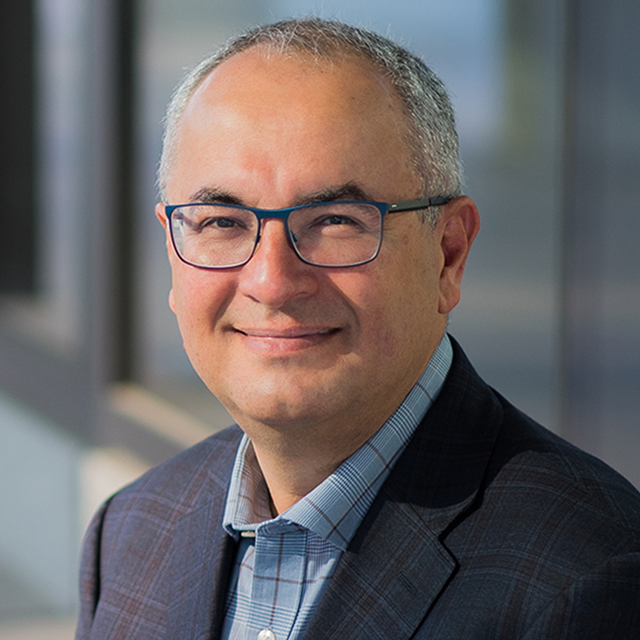 Alejandro Sweet-Cordero, MD 
Division Chief of Oncology 
Dr. Sweet-Cordero's goal is to identify novel therapeutic approaches for cancer that target the genetic mutations and altered signaling networks that are specific to cancer cells and their microenvironment. The use of functional genomics is applied to mouse and human systems (genetically engineered models, patient derived xenografts) to understand the signaling pathways and transcriptional networks that regulate the outcome of specific oncogenic mutations and to identify new approaches for cancer therapy. Dr. Sweet-Cordero has two primary disease interests: lung cancer and pediatric sarcomas. His research spans the continuum from basic discovery to preclinical target development, done in a dynamic and interactive environment that is highly collaborative.
Our Staff
Jason Rahman
Division Manager
[email protected]
Chris Andreassi
Assistant Division Manager 
[email protected] 
Beth Anne Martin
Sickle Cell Program Manager  
[email protected] 
Ivette Gomez
HTC Financial Program Support
[email protected] 
Jennifer Joe
HR Administrator
[email protected]