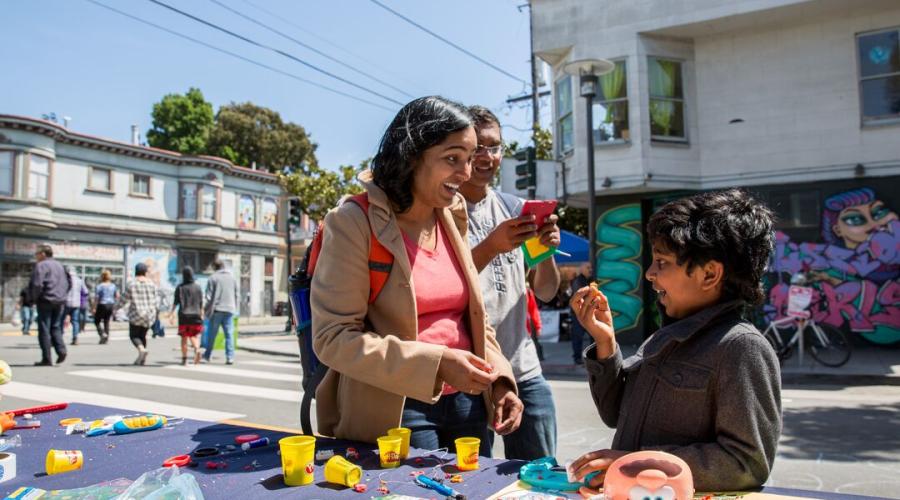 Building Resilience in Children By Supporting Parents and Caregivers
"Many children who have encountered tremendous adversity manage to beat the odds and thrive–this is resilience," says Joan Jeung, MD, MPH, MS, UCSF Professor of Pediatrics in the Division of Developmental Medicine and program director of a UCSF clinic designed to promote resilience in young children.
The Resilience Clinic, located at UCSF Benioff Children's Hospital Oakland's primary care clinic, promotes resilience in young children who have experienced significant adversity by supporting strong caregiver-child relationships and helping families manage stress.
Notably, the clinic's practices are starting to spread through community health centers in Oakland after a successful pilot program focusing on children ages 0-11.
What Makes a Child Resilient?
Clinically, adverse childhood experiences (ACEs) are categorized into three groups: abuse, household challenges and neglect. Research has shown that children exposed to four or more ACEs have increased odds of developing learning and behavior problems like ADHD or substance abuse and long-lasting medical issues such as asthma.
"Yet, the single best predictor of resilience in children exposed to adversity is the presence of one or more safe, stable, and nurturing caregivers in their lives," says Jeung,
Establishing a strong caregiver-child relationship early in life is crucial for children with ACEs because early experiences shape brain architecture, gene expression and physiological stress response in ways that can influence lifelong learning, behavior and health.
The Resilience Clinic's Model
A key to cultivating child resilience is co-regulation: if a parent can stay calm and attuned while the child is experiencing distress, it helps the child become more calm and regulated. Over time, this kind of responsive caregiving helps the child develop self-regulation, which is critical for healthy development.
The Resilience Clinic arms both caregivers and children with techniques to help them manage stress and strengthen their connection with each other. Sessions at the clinic include mindfulness training to promote co-regulation along with attachment-oriented parenting education. Families are given care packages with resources like flip books that explain "big feelings" and toys like bubble blowing sets.
"The goal is to increase the caregiver-child connection in all kinds of daily activities. We're looking for more patience and understanding when children are acting out because of stress, and more time playing together and simply enjoying each other's company," says Jeung.
Parents have reported an improved ability to handle stress and a deeper connection with their children. One parent shared that her 4-year-old daughter often says, "Remember to breathe, Mommy," a callback to a session on using breath as an anchor through stress.
Expanding Through the Bay Area
While working at a community health center in Oakland, Jeung says she realized the critical importance of supporting caregivers.
"It's hard work providing responsive attention to children in the face of stress and adversity. But I saw the tremendous opportunity for pediatric primary care to partner with families and help them establish and sustain positive, responsive relationships," says Jeung.
Jeung plans to expand the program through partnership with groups like Asian Health Services, UBCP Bancroft Pediatrics, La Clinica de la Raza, Roots Community Health Center, First 5 Alameda County and community-based organizations affiliated with Kerry's Kids (a mobile pediatric healthcare program), including YMCA of the East Bay. The Resilience Clinic will implement pilot programs at these locations and provide training to staff in the clinic's curriculum.
"We hope to inform the broader pediatric healthcare community of the merits of an approach that promotes child and family resilience in primary care," says Jeung.
The Resilience Clinic is part of the part of UCSF Center for Child and Community Health, which is led by Dayna Long, MD, Anda Kuo MD, and Baylee de Castro, MPP. Curricular materials are drawn from Dovetail We Are ResilientTM and Circle of Security Parenting. The clinic is participating in a UCSF-led multi-site clinical trial of resilience-promoting programs, Collaborative Approach to building Resilience in Everyone (CARE), under Principal Investigators Dayna Long, MD, Neeta Thakur, MD, Nicole Bush, PhD, and Danielle Hessler, PhD.