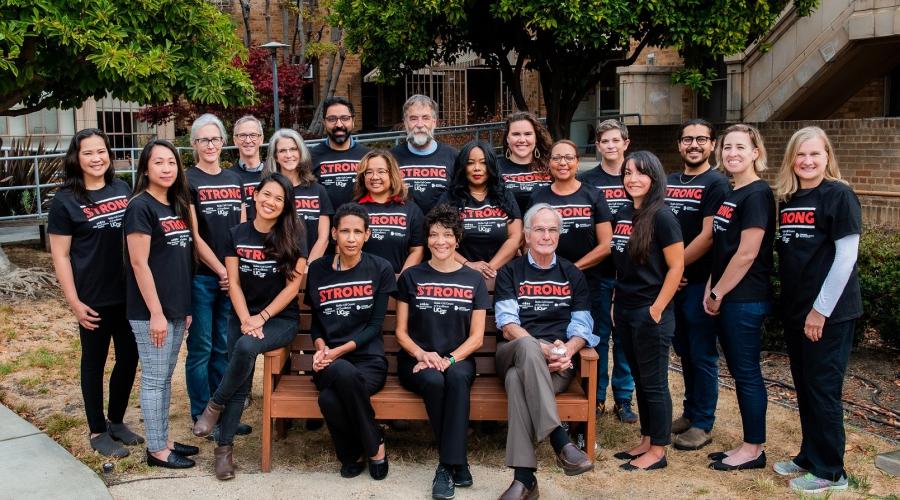 Comprehensive Sickle Cell Care and Research Led by the UCSF Department of Pediatrics
Christelle remembers the day her pediatric hematologist taught her how to take care of herself as a person living with sickle cell disease (SCD). Her doctor taught her basic pathophysiology, detailed an individualized pain plan and discussed how to truly take ownership of her own health. She felt smart and independent, armed with knowledge of the nuances of her disease. She was only 11 years old.
Every year, approximately 300,000 babies are born with SCD globally. In the United States SCD occurs among one out of every 365 African American births.
UCSF has been at the forefront of providing culturally responsive health care for patients like Christelle. Exemplifying this is the Sickle Cell Care Coordination Initiative in Northern California, which brings together adolescents and adults with SCD, health care providers, policymakers and researchers to improve quality of life and care for people with the disease in the Bay Area and beyond. The program is run by Marsha Treadwell, PhD, a professor of pediatrics in the Division of Hematology. 
The program's goals are to translate discoveries from research into personalized treatment for patients with SCD and to standardize this level of sickle cell care for patients through better coordination of care at all levels of the healthcare system, said Treadwell.
A body of research, largely driven by the work of Eliott Vichinsky, MD, and others at UCSF Benioff Children's Hospital Oakland over the last 50 years, shows that early diagnosis and access to skilled treatment significantly reduces the risk of serious complications and associated deaths in children with this complex, hereditary disease.
Without such care widely available around the world, most children born with SCD do not survive until adulthood.
Transforming Care Through Equity and Research
Even those who live relatively healthy lives despite the disease have frequent bouts of immense pain and can find their requests for medicine and care not taken seriously, as adults with SCD who seek care are subject to stigmatization and discrimination within the healthcare system.
Christelle, a Haitian American, shares this experience. When she switched to adult care, she was often accused of being a drug seeker. Her requests and input were repeatedly ignored. She recalls needing to wait in the ER for 30 hours before being admitted.
Treadwell is passionate about dismantling structures that cause disparities in patients' outcomes and access to resources. Accordingly, UCSF's Sickle Cell Center of Excellence is committed to providing culturally responsive, comprehensive medical care for patients of all ages.
Treadwell says that she was originally drawn to SCD medical care in the Bay Area because of the opportunity for true partnerships between communities, clinicians, and researchers to mitigate health inequities like those that Christelle faced.
Christelle, who recently joined the Sickle Cell Center of Excellence as a Community Advisor, says that she's excited to leverage her intersecting identities as a person living with SCD and student-doctor in training to improve care and help others with the disease.
Her unique perspective is appreciated by Treadwell, who has mentored and trained numerous individuals under-represented in medicine to increase the diversity of outlooks involved in research and care. Such perspectives help with selecting appropriate populations for clinical trials and translating innovative discoveries into practice in culturally appropriate and equitable ways.
Alongside Treadwell is Mark Walters, MD, Division Chief of Hematology at the UCSF Department of Pediatrics, who is leading the first-in-human clinical trial of gene correction therapy to cure SCD. This trial will use CRISPR genome editing to directly correct the mutation in blood stem cells that cause the disease. His hope is that this research will bring a safer and more accessible cure than stem cell transplantation therapy.
He's been awarded one the largest grants in the history of SCD research to conduct this work.
To learn more about the history and ongoing developments regarding SCD, listen to the podcast series from UCSF Benioff Children's Hospital Oakland. More UCSF hematology news can be found here.