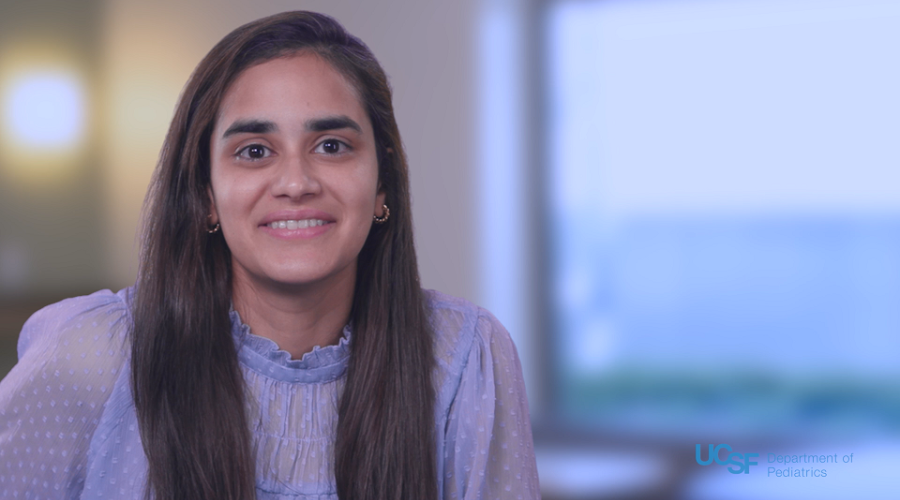 Fellow Perspective: Anita Chaphekar on Finding Your Medical Passion
Anita Chaphekar, DO, is a clinical fellow at the UCSF Department of Pediatrics in the Division of Adolescent and Young Adult Medicine interested in improving healthcare outcomes for people with eating disorders.
Anita earned her medical degree from the University of North Texas Health Sciences Center and completed her pediatric residency at the University of Oklahoma Health Sciences Center.
Read on for Anita's perspective as a UCSF trainee or watch her discuss discovering the Bay Area with her peers and how she's been supported to follow her passions.
How has UCSF provided opportunities for you to find your passion in medicine? 
There are so many people here that want to help you find your passion and make an impact. It's common to meet and work with experts in different fields through collaborations on research or patient care. You can find yourself working with new mentors from different divisions, departments, or universities altogether. In a field as broad as pediatrics, the possibilities seem endless.
In general, UCSF provides opportunities to care for patients with complex medical issues, contribute to cross-discipline research and learn about career opportunities in education. Trainees are encouraged and empowered to attend conferences and lectures to interact with the larger medical world.
What have you gained from caring for patients at UCSF?  
I feel so fortunate to be able to provide care for the diverse patient population at UCSF. My training in adolescent medicine has coincided with the pandemic, and I've seen many young people with severe physical and mental health illnesses. Over time, I've become more confident and comfortable in caring for young people with complex needs, and I've learned to better relate with families to help them understand what their teenagers are going through.
I've also embraced the UCSF emphasis on collaboration. Comprehensive care for our patients requires working with psychologists, dieticians, social workers and other specialists. I know that if I become an attending physician, my experience integrating their expertise will be key to my success.
What have you learned that will help you transition to an attending physician?  
Understanding the nuances of the various career opportunities that are available to early career physicians has helped me direct my career toward  a path involving clinical care and research to improve health outcomes of adolescents and young adults.
Medical education, clinical care and research all provide pathways to success and improving child health but choosing where to focus can be tricky. Luckily, my mentors are open about their experiences in academia, and I feel equipped to make informed decisions about my future based on my passions and my goals.
What are your favorite parts about the culture at UCSF? 
The support and inclusivity. There is a collegiality across the board that shows the mutual respect everyone at UCSF has for one another. We're all working to advance healthcare and improve lives, and with that shared mission comes comradery.