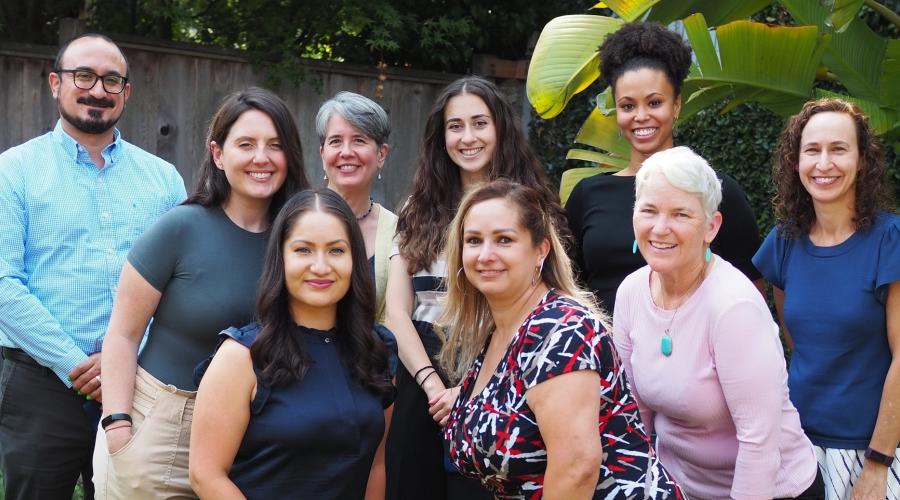 Helping Vulnerable Youth through Novel Interventions
In 2020, UCSF's Department of Pediatrics launched the Novel Interventions in Children's Healthcare (NICH) program, a promising service for helping youth that have developed poor health due to complex medical conditions and significant psychosocial vulnerabilities.
Each child accepted into the program is assigned to an interventionist, whose role is to gain a full understanding of the youth's situation and challenges, and provide them with consistent, positive support in any aspect of their life that needs it.  
Before enrolling in NICH, these youth were often working with primary care providers, specialists, nurses, and social workers, and yet would end up hospitalized with acute complications or would miss appointments. Social vulnerabilities such as transportation insecurity can be so disruptive that they prevent a child from making it to their medical visits, whereas food and housing insecurities can often be debilitating.
Most NICH participants have type 1 diabetes, but the program accepts youth with a wide variety of medical issues, including cancer, chronic pain and cystic fibrosis. Each child has a unique health and social history when they enter the program, and so support and resources are specifically tailored to their needs. NICH does not supplant care providers but rather seeks to identify and address barriers to care while at the same time facilitating positive interactions between healthcare team members, patients and their families.
To establish a rapport with the patient, interventionists attend all medical visits, meet with their patients once per week and check-in with them daily through call or text.
"We walk with these families in many difficult and traumatic situations," says UCSF interventionist Gabrielle Woodland, an Oakland native who has lived with type 1 diabetes for over a decade. "Having shared language and experiences helps us navigate these situations together, so they don't feel overwhelmed or confused."
Interventionists also aim to engage individuals important to the child's life, educating them about the disease or teaching them skills to properly manage the medical condition or a potential crisis. Patients are often given simple, attainable goals (e.g. sending a picture of their daily insulin injection) with an established and consistent reward system to help keep them on track.
"We'll go out to people living in their cars or those more than an hour away. We'll meet their families, their teachers, their coaches – anyone and everyone important in their life." says Woodland. "Consistency goes a long way toward building trust."
Woodland, who has experience working with people suffering from homelessness, worked to get one of her previous patients out of a foster home and back with their mother. She also assisted the mother apply for COVID-19 rent relief and connected the patient to a diabetes summer camp and a jobs program.
Part of the NICH program's strength comes from providing help to the patient's life outside the clinic, where the true drivers of their poor health exist and obstruct.
And the results are clear.
In the first few years of the program, patients enrolled in NICH made more of their doctor visits, experienced less acute events from their disease, and were hospitalized fewer times for an emergency compared to the year before they entered the program.
UCSF currently has 4 NICH interventionists, each of whom came to the position with their own background and skillset that help them communicate and relate with certain patients. They've been trained to work with medical clinics and help families combat any issue interfering with their child's healthcare. Ultimately, they've dedicated themselves to giving the most medically and socially vulnerable youth an opportunity to live a healthier and more fulfilled life.
Learn more about UCSF's philanthropy-funded NICH program here.