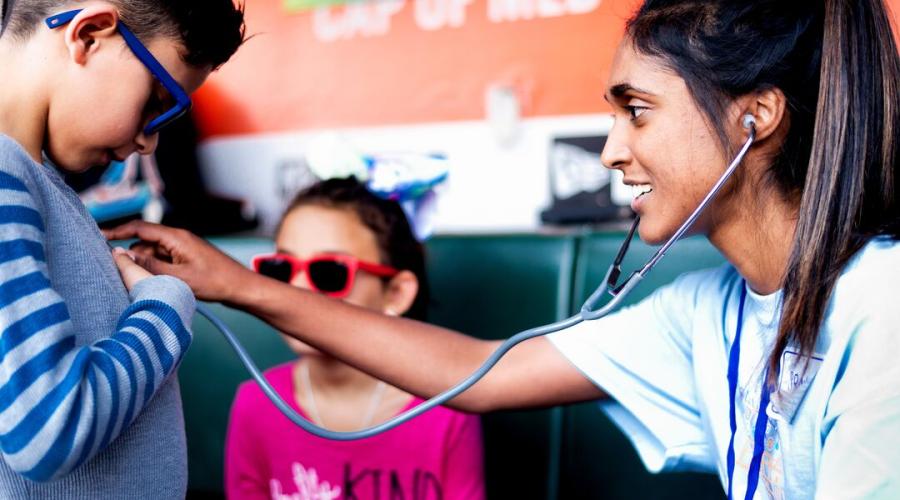 Innovation Through Technology, Research and Care at UCSF's Pediatric Diabetes Program
With a pediatric diabetes diagnosis, a child and their families' lives are completely changed. They must monitor their blood sugar and take insulin for the rest of their lives. With each meal, they need to calculate how much insulin they need. Too much or too little can lead to passing out, seizures and even intensive care.
Staying healthy often means 24-hour self-management and monitoring. Understanding family dynamics and social structures surrounding the child help clinicians encourage appropriate technologies and incorporate successful diabetes management strategies in an equitable manner.
The UCSF pediatric diabetes program exemplifies this individualized style of care by providing comprehensive diabetes management services with an emphasis on technologies and patient education.
"Diabetes management has gone through radical transformation in the last couple of years," said Eda Cengiz, MD, a professor of pediatrics in the Division of Endocrinology and director of the pediatric diabetes program at UCSF. "Advancements in diabetes technology are revolutionizing diabetes care by lifting the burden of self-management and improving health outcomes."
"Diabetes does not give you a break," Cengiz continued. "It's a fulltime job with demanding day-to-day responsibilities. The disease affects the cognitive and psychological wellbeing of individuals, and people with diabetes thus face a multitude of emotional and mental health challenges."
Technologies to Ease Self-Management
Automated insulin pumps and continuous glucose monitors are some of the main technologies that UCSF encourages families to use. They help ease, automate and regulate the constant self-monitoring that people with diabetes must keep up with to maintain their health.
Staff at the program specialize in educating patients about their options and easing acquisition of these useful technologies.
"As a diabetes clinical research hub with a focus on diabetes technology, we give our patients opportunities to explore the most recent diabetes devices and take part in groundbreaking clinical trials that can have a global impact," said Cengiz.
Prevention and Intervention Research
With a lifetime of insulin injections as the only approved treatment for type 1 diabetes (T1D), pediatric diabetes researchers at UCSF have focused on improving risk screening, prevention and intervention methods.
"TrialNet is working to bring disease-modifying therapies to individuals with T1D," said Cengiz. "TrialNet screens for T1D risk in its earliest stages, often years before symptoms appear."
Once certain risk factors have been identified, patients can participate in clinical trials that seek to delay the onset of the disease and the subsequent reliance on insulin injections.
One such clinical trial led to FDA approval of a drug shown to slow or delay the onset of T1D. Tepilizumab, developed in collaboration with researchers at UCSF, will be used to treat patients at high risk for T1D who have antibodies that indicate an immune attack on their pancreas and whose glucose tolerance is not normal. 
"The FDA approval of Tepilizumab in late November is only one example of how applying precision medicine to the diabetes field can have a transformational impact for generations to come," said Cengiz.
Early detection and slowdown of diabetes can provide families a grace period to begin learning about the disease and how to integrate diabetes into their lives, rather than letting it take over.
UCSF at the Forefront of Care and Research
Managing diabetes is a skill that takes time to develop. Even those that have lived with the disease for years face challenges.
"To promote optimal medical outcomes and psychological well-being, patient-centered care is essential," said Cengiz. "People with diabetes and their clinicians form alliances to tackle the burden of diabetes care. Clinicians play a key role in promoting diabetes treatment adherence by positive, reinforcing messages and interactions."  
Research has also shown that diabetes control can also worsen if adolescents and young adults move too quickly from supervised or family management to independent management.  
Developed with feedback from patients and families, the Transition Program helps ensure that as patients change, their diabetes care keeps up. 
"New therapies, monitoring, and technologies reveal an historic opportunity to improve the lives of people with diabetes," said Cengiz. "Now is the time for progressive healthcare centers to take the initiative and work to create a more equitable future to ensure these breakthroughs reach those that need them most."
The future for Cengiz and the UCSF pediatric diabetes program involves the creation of a digital health model for diabetes care and management—a modern teaching model without walls that aims to transform diabetes care and address related health inequities. 
Patient resources for diabetes care at UCSF can be found here.