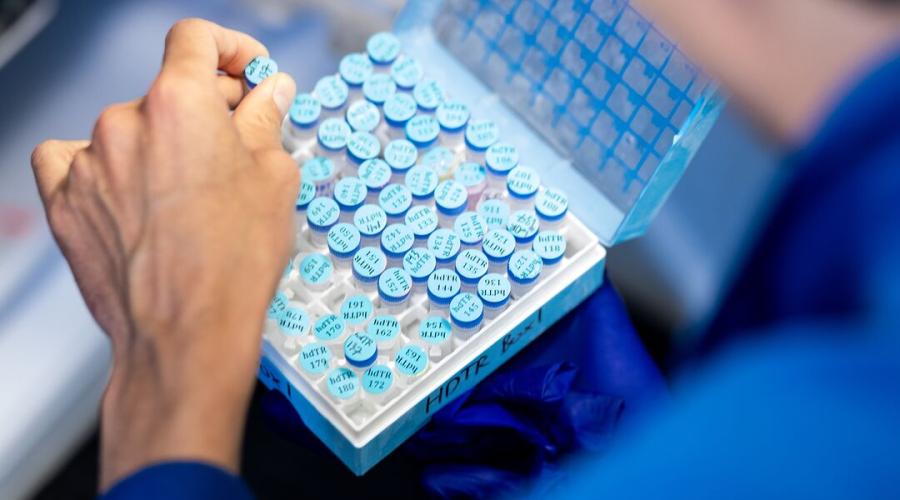 Precision Medicine Provides New Hope for Difficult Pediatric Cancers
Traditional therapies like chemotherapy, radiation and surgery for rhabdomyosarcoma (RMS) – the most common soft tissue cancer in children – only cure two-thirds of initial cases and are even less effective on children who relapse. But a new potential therapy involving precision medicine offers hope for patients with RMS.
"Traditionally, RMS patients require frequent visits – sometimes every week and even every day for several weeks during radiation," said Dr. Amit Sabnis, an expert on RMS and assistant professor of Pediatrics in the UCSF Division of Oncology. 
"Side effects include low energy, risks of infection, weakness and severe nausea," said Sabnis. "Relapse is common and often deadly. Patients who relapse must consider repeating chemotherapy, despite it being harder to endure and less effective the second time."
But precision medicine leverages knowledge about genes and proteins to prevent, diagnose and treat disease. This approach expands the possibilities of treatment beyond the one-size-fits-all approach of chemotherapy and into a personalized care plan where vulnerabilities of specific cancers can be effectively targeted.
In a recent paper published in JCI Insight, Sabnis and his colleagues performed CRISPR-based genetic screening and identified an unexpected vulnerability in a molecular subtype of RMS in which two genes called PAX3 and FOXO1 are joined together by a chromosomal alteration in the cancer cells.
CRISPR methodologies allow investigators to assess the functions of thousands of genes at the same time and have the potential to uncover new strategies for curing cancers that have been historically hard to treat.
Using CRISPR, the research team targeted 2,000 genes and found that some RMS cells are dependent on the mTOR signaling pathway. They then showed that a new class of experimental mTOR inhibitors significantly impaired the growth of these RMS cells and tumor growth and favored growth of healthy cells.
This discovery identified the mTOR pathway as a viable target for precision therapy in RMS and outlines a path to find similar vulnerabilities in other common pediatric cancers.
Using New and Improved Inhibitors
"With previous mTOR inhibitors, we could delay progression of cancer but not actually cure anyone," said Sabnis. "Those inhibitors were only shutting down one arm of the key pathway, reducing their effectiveness."
The genes identified with CRISPR gave critical insight into the specific activities that are required for growth, which allowed Sabnis to use a new mTOR inhibitor that shut down both arms of the targeted pathway and more effectively impair tumor growth.
"We are currently in discussions with our partners at Revolution Medicine [providers of the mTOR inhibitor used] on how to best translate these findings into a clinical trial for pediatric patients," said Sabnis. The first-in-human compound of a similar mTOR inhibitor is being tested in a phase 1 study of adult patients at 8 centers, including at UCSF.
Transformative Cures Through Precision Medicine
"The relatively 'quiet' genomes of childhood cancer means that the tumors are often strongly dependent on just one or two mutations," said Sabnis. "This makes the results from our screening strategy much more likely to be broadly applicable."
Development of more precise CRISPR genetic screening opened the door for this novel strategy. Previously, targeting 2,000 genes and testing the genetic logic that connects the cancerous mutation to specific pathways would have been less accurate and taken much longer.
Sabnis said that the biological discovery in his paper offers "strong evidence that new and more potent mTOR inhibitors offer a path to potential cures for a host of pediatric cancers that otherwise remain difficult to treat."