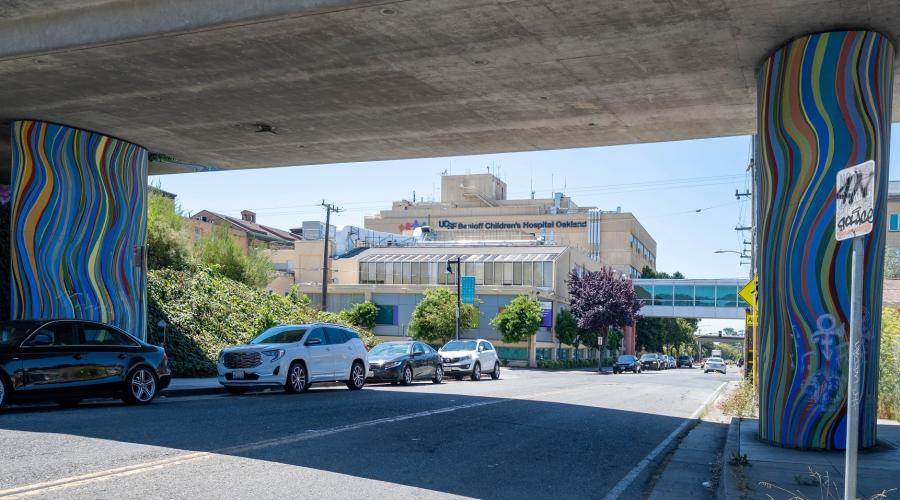 Serving Oakland's Most Vulnerable Children and Young Adults
"Our goal is to provide the most superlative care to every child and family who walks through our doors regardless of their insurance, language, ethnicity, race or religion," said Gena Lewis, MD, Professor in the Department of Pediatrics at UCSF and Medical Director of the Federally Qualified Health Center (FQHC) at UCSF Benioff Children's Hospital.
"Every member of our team is invested in helping our patients and families get what they need to stay healthy," said Lewis, whose FQHC oversees the pediatric primary care and teen clinic at the hospital's Oakland location and two school-based clinics in East and West Oakland.
As federally designated care providers for disadvantaged and underserved patients, FQHCs are a vital part of the healthcare safety net by serving families with low incomes, no legal documentation or no insurance—regardless of their ability to pay.
In California, there are approximately 600,000 people aged 24 or younger without insurance, 200,000 of which are 18 or younger. Oakland, with its socio-economic diversity and substantial population of people who are under-inured or uninsured, hosts a unique opportunity for FQHC clinics to have a meaningful impact for local families, children and young adults.  
Serving Oakland and Beyond
Within the Castlemont school-based health clinic in West Oakland, Zarin Noor, MD, MPH, Associate Professor in the UCSF Department of Pediatrics, runs a special asylum clinic that provides premier care and forensic exams for new immigrants and refugees. With Oakland as a longtime hub for these individuals, Dr. Noor's clinic is a key part of the healthcare safety net in the area.
The Castlemont clinic, along with the other school-based clinic, the Chappell Hayes/McClymond Health Center, serve as full-service primary care centers where young people are understood and comfortable.
Saun-Toy Trotter, MFT, is a therapist that heads the behavioral health services offered at these two clinics. Trotter has been a pioneer of reducing barriers to high-quality health care for over 15 years and now serves on the national advisory board for school-based clinics.
Over at UCSF Benioff Children's Hospital, the pediatric primary care and teen clinic in Oakland also consider every aspect of their patients' lives to provide culturally responsive care.
Multidisciplinary teams at these clinics have expertise in all facets of child and young adult health: physical, emotional, mental and sexual. These teams specialize in serving low-income families with children and special populations, such as youths placed outside the home or seeking confidential services.
"Our impact is helping the next generation of the community grow to become healthy, happy and successful," said Lewis.
Partnering with the Community
Gaining the trust of the community is also critical, which is why outreach and partnerships have long been emphasized by Lewis and her colleagues.
One such partnership is with the East Bay Community Law Center, to which the four clinics can give patients a medical legal referral.
This partnership has helped countless families in difficult situations, including one immigrant family from Eritrea who had a child suffering from severe asthma linked to mold in their home. The law center got the family out of their harmful lease and into a new, healthier home. The child's asthma has since resolved and he's currently a star on his high school soccer team.
"Thinking outside the box to make things happen for the good of the child is what we're all about," said Lewis. "Through our collaborations with schools, the juvenile justice system and advocacy organizations we've become the largest primary care safety net clinic in the east bay."
Training the Pediatric Leaders of Tomorrow
"Part of our mission is to teach every resident a deep understanding of cultural humility and the importance of political activism as part of the profession of pediatrics," said Lewis, who was awarded a recent grant from HRSA to bolster this pursuit.
The widespread impact of political activism is exemplified by Dayna Long, MD, Professor of Pediatrics in the UCSF Department of Pediatrics and co-director of the UCSF Center for Child and Community Health. Long generated research using cases and data from the FQHC clinics that resulted in California implementing best practices on screening for social determinants of health and childhood trauma in all routine child checks.
California's first surgeon general Dr. Nadine Burke Harris worked with Long on this research that has transformed the way pediatricians screen, treat and counsel resilient children.
"I hope that the health and well-being of our children will be central to every decision we make as individuals and as communities," said Lewis. Through the care that the four clinics provide for underserved children and the partnerships she's established with likeminded groups, Lewis and her team are setting an example of how to put children first.