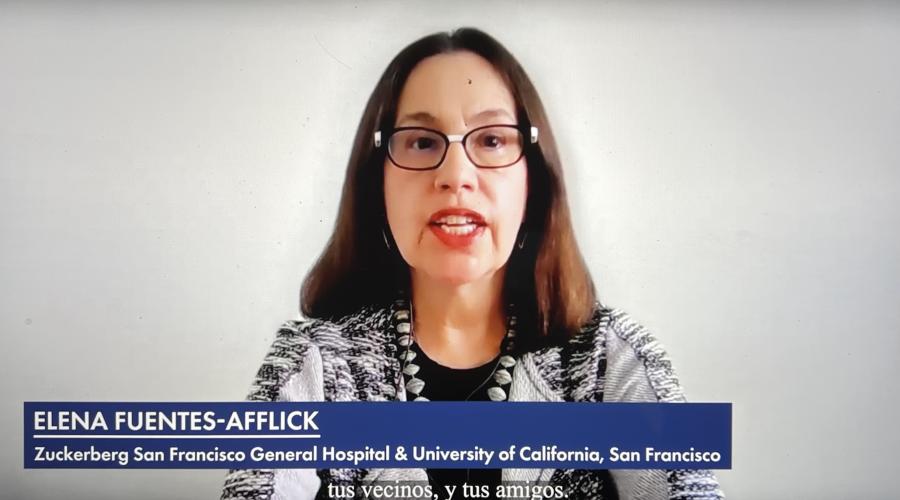 UCSF and NAM Promote COVID19 Vaccine to Latinx Communities
Two Latinx faculty members who are members of the National Academy of Medicine (NAM) joined forces with a group of other Latinx NAM members in the creation of a video to encourage COVID19 vaccination for Latinx communities across the United States.
Elena Fuentes-Afflick, Professor of Pediatrics, Chief of Pediatrics at the Zuckerberg San Francisco General Hospital and NAM Home Secretary, and Claire Brindis, Distinguished Professor of Pediatrics, Emerita Director of the Philip R. Lee Institute for Health Policy Studies and NAM Council Vice-Chair, collaborated in the production of the videos (English and Spanish).
"The National Academy of Medicine has an important opportunity and responsibility to promote health and I'm proud to have collaborated with my colleagues to encourage our Latino community to get vaccinated," said Dr Fuentes-Afflick.
Dr Fuentes-Afflick is featured in the video with other Latinx doctors, scientists, nurses, public health experts, and other health professionals. Their message is clear: we have reviewed the research and have confidence in the vaccines.
Professor Claire Brindis underlined the importance of this initiative. "Many different and supportive voices are needed to reach diverse communities regarding the value of being vaccinated, including Latinos who have often been marginalized and excluded and at greater risk of the COVID-19 virus. As Latino members of the National Academy of Medicine, we lend our support at the federal, state, and local government levels, along with community-based organizations, to turn the tide so that we successfully assure safer population health."
Use the links from the NAM website to view and share the videos and related materials in English or in Spanish.