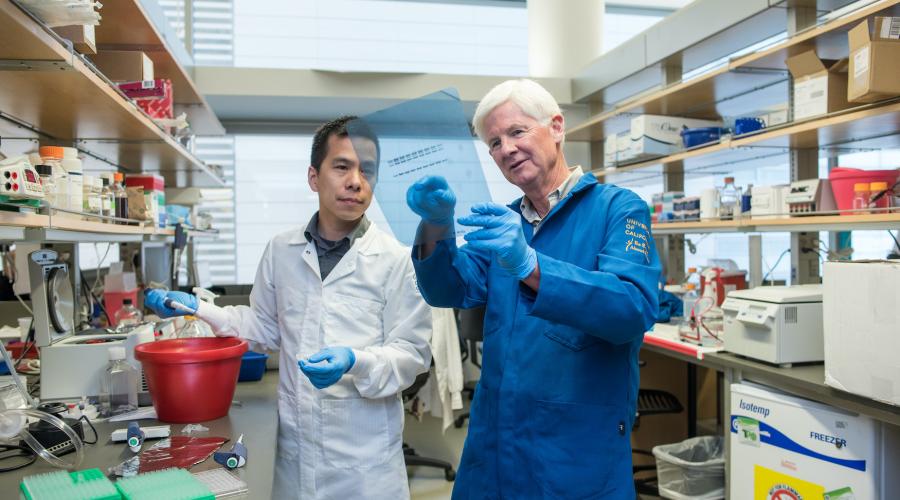 UCSF Pediatrics Rises Four Spots in Blue Ridge Rankings
The UCSF Department of Pediatrics continues to make dramatic increases in the federal research rankings from the National Institutes of Health (NIH). 
The Blue Ridge Institute for Medical Research, which provides an annual ranking of awards and contracts from NIH to medical schools and individual departments, this year placed the UCSF Department of Pediatrics at No. 15 nationally amongst departments of pediatrics. Last year, the department ranked No. 19 and two years ago No. 21, demonstrating a continued year-over-year improvement in our ranking.  
"The increased support from NIH demonstrated in these rankings underscores the high quality of research taking place within our department," said Raphael Hirsch, MD, Chair of the department and Physician-in-Chief, Benioff Children's Hospitals.
The more than $23 million UCSF Pediatrics received in NIH funding in 2021 represents a growth of nearly $6 million compared to 2020 and has allowed researchers to perform transformative work to discover new treatments and cures for childhood diseases.
"NIH funding is behind many of the biggest breakthroughs that our researchers have made over the decades," said Dr. Hirsch. "This increased support will provide a foundation that enhances the quality and timeliness of research into pediatric diseases, speed the development of innovative treatments and cures and improve the competitiveness of our pediatric researchers."
He continued "Our success is due to the talent, dedication and hard work of our faculty and trainees. The critical research they conduct has changed countless lives for the better and keeps UCSF a hub of discovery and innovation for the Bay Area and beyond."
The respected Blue Ridge Institute for Medical Research utilizes data from the Research Portfolio Online Reporting Tool (RePORT). This surveys U.S. medical schools for their NIH funding levels between 1 October 2020 and 30 September 2021. 
The Blue Ridge Institute for Medical Research has monitored NIH funding to medical schools and other health science schools and organizations since 2006. It generates an annual ranking of NIH funding for U.S. medical schools and their departments.