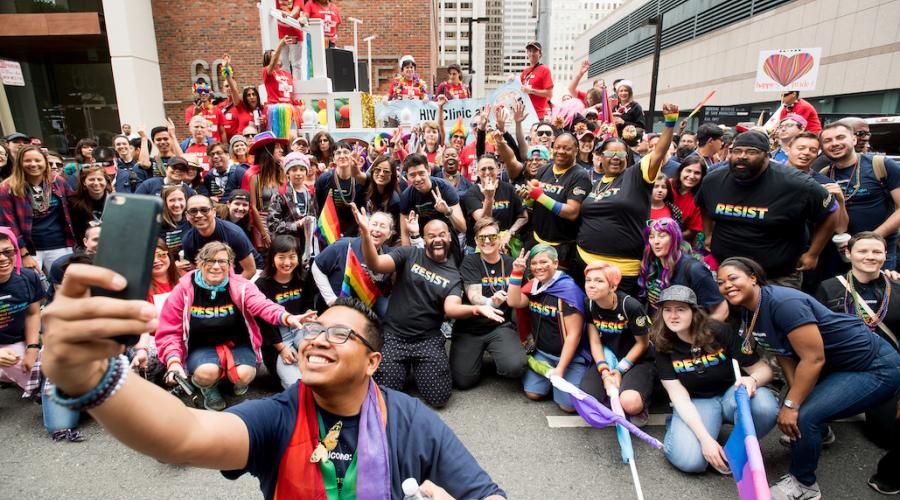 UCSF Residents Unite for Social Justice
Created over five years ago to provide a sense of community for the physicians who come from marginalized groups in medicine, RISE (Resident-Led Physicians for Inclusion, Social Justice, and Equity) Coalition has become one of the most important groups to advocate for social and racial justice within and beyond the UCSF Pediatrics Residency Program.
The goal of RISE is to expand efforts to recruit and support trainees who have been historically excluded in medicine and remove barriers that prevent them from reaching their full potential. Within the Department of Pediatrics, members aim to truly serve as pediatrician-advocates for their most vulnerable patients, honoring their commitments to advance equity for all children from all backgrounds.
Over the years, RISE Coalition has focused on creating intentional spaces that foster healing, support, and growth for Black, Indigenous, People of Color, and LGBTQIA (Lesbian, Gay, Bisexual, Transgender, Intersex, Queer and/or Questioning, and Asexual and/or Ally) people, as well as other marginalized groups within the resident community.
While working towards individual and structural change, the organization also strives to build a new status quo of medical culture that holds those in power, the institution, and themselves accountable to the harms of white supremacy, homophobia, transphobia, sexism, ableism, and all forms of oppression.
Divided into six subcommittees, RISE Coalition met several milestones this year:
· Curriculum committee: Developed a social justice and anti-racism curriculum for all residents.
· Community partnership committee: Partnered with FACES for the Future, an organization that provides youth from diverse backgrounds and challenges with opportunities to learn about careers in health.
· Alliance committee: Working on building alliances streamlining social justice and equity work within UCSF.
· Recruitment committee: Continues to strengthen efforts to increase outreach to Underrepresented in Medicine applicants and create a diverse intern class.
· Social committee: Hosted virtual happy hours and storytime.
· Advocacy committee: Hosted conferences and established partnership with California Advocacy Training Collaborative.
The organization acknowledges that change is gradual and reinforces that being involved in social and racial justice work and collaborating across disciplines within medicine is imperative for everyone. From doctors to nurses to advanced practice providers and anyone involved in patient care, everyone needs to unite and advocate for oppressed groups.
To get involved, suggest ideas, or make collaborations, please reach out to the co-leaders:
 · Radhika Rajan, MD MPH – [email protected]
 · Santiago Rozo, MD MPH – [email protected]
 · Omar Salman, MD – [email protected]