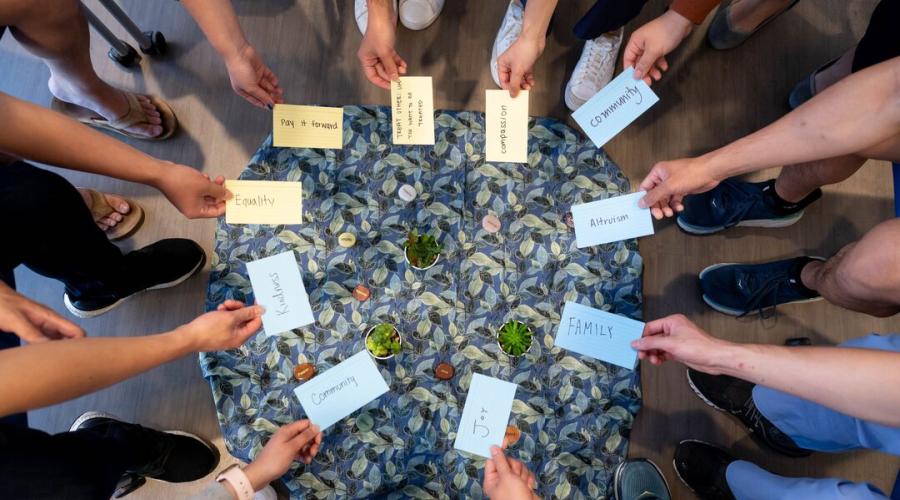 Inaugural UCSF HEAT Series Focuses on Child and Adolescent Mental Health
COVID-19 accelerated an already ongoing child and adolescent mental health crisis, said a CDC report from June 2020 noting that a quarter of young people had seriously considered suicide in the prior 30 days. 
Experts at UCSF say that such a widespread crisis cannot be handled by a single group nor through a splintered mental health ecosystem. Impactful solutions require transformative partnerships and close collaboration between child and adolescent service providers, community organizations, school districts, policy leaders, health system partners and advocates.  
Bringing representatives from those groups together, UCSF Pediatrics, the Center for Child and Community Health and the UCSF School of Medicine recently held the inaugural Health Equity Action Time (HEAT) series, a three-day virtual forum that gathered partners to learn, connect and outline a path for action.  
Critical reflection and a shared path forward 
The first HEAT session provided an opportunity for participants to have a shared understanding of the obstacles preventing children from getting care and the severity of the mental health crisis.
The forum opened with testimonials from Malia, a college student, and Toni, a high school student, who each described their experiences navigating the adolescent mental health care system.  
Malia first shared her experience with having to learn about mental health on her own and the need to convince her mother to allow her to seek out mental health services at age 14. Toni then described how she lost access to her therapist when she transitioned from middle school to high school. She's been on the wait list at her school to get a new therapist for two years now.  
Participants also heard from Oakland Thrives, a collective impact organization that recently published a Child and Adolescent Behavioral Health Landscape report that combines public data with qualitative sources to show how the mental health crisis in Oakland is shaped by poverty, racism and violence.
The presentation by Oakland Thrives CEO Melanie Moore, PhD, and consultant Palak Shah included recommendations on what immediate steps can be taken to increase accessibility and effectiveness of mental health services, which would be a focus for the rest of the HEAT series.
An unprecedented reform landscape in California 
HEAT's second session focused on re-envisioning California's mental and behavioral health systems of care. Secretary for the California Health and Human Services Agency Mark Ghaly, MD, MPH, gave a detailed run-down of the Children and Youth Behavioral Health Initiative, California's new $4.4 billion investment to enhance, expand and redesign the systems that support behavioral health for children and youth.  
With much of the initiative geared toward expanding workforce capacity and expertise, California is also making it easier for children to access mental and behavioral health services.
Now, children are eligible for Medi-Cal services without a formal mental health diagnosis if they have a history of one of the qualifying risk factors, including housing insecurities or an experience with racism.  
"Mental health issues have reached a place where they simply can't be ignored, so we're seeing unprecedented investment," said UCSF's Vice Chair for Child and Adolescent Psychiatry Bryan King, MD, MBA, during a third session panel. "To fully take advantage of this investment, silos need to be broken down." 
Moving from promise to practice: a roadmap for the future 
During the third and final session, participants consolidated their learnings from the prior sessions and together identified concrete steps to improve child and adolescent wellness:   
Build capacity, including training and workforce development.

 

Improve partnerships with communities, including schools.

 

Increase direct clinical services.

 

Provide infrastructure for cross-sector and cross-silo collaboration and information sharing.

 

Scale and sustain integrative behavioral health services.

 
In support of many organizations determined to improve the mental and behavioral health ecosystem, UCSF is compiling a detailed summary of recommended priorities and launching a task force dedicated to spurring concrete action from these priorities.    
An adjacent priority discussed by participants was for UCSF to continue serving as a source of communication and collaboration.  
Building on the enthusiasm and momentum from the discussions on youth and adolescent mental and behavioral health, HEAT aims to become a regularly occurring forum where communities can continue to come together to discuss urgent health equity challenges and create collaborative roadmaps toward solutions.  
The full details and recordings for the inaugural HEAT series can be viewed here.