Academic,
Meeting,
Special Event,
Wellness
HEAT: Health Equity Action Time
Focus on Child and Adolescent Mental Health
-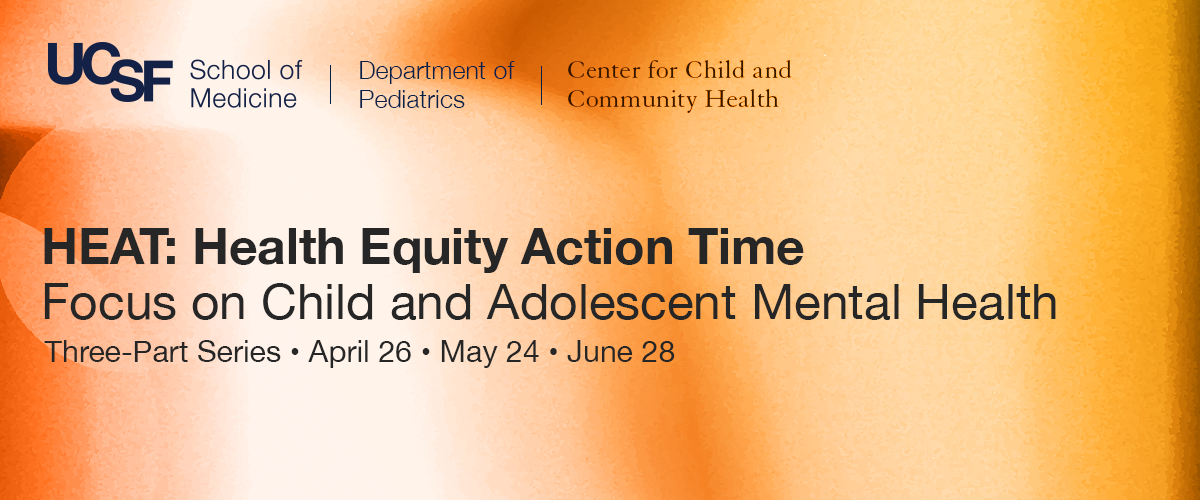 In response to the deepening mental health crisis, the UCSF School of Medicine, Department of Pediatrics, and Center for Child and Community Health launched Health Equity Action Time (HEAT) in 2021.

HEAT is a dedicated multidisciplinary forum for child and adolescent providers, community organizations, policy leaders, health system partners, and advocates to come together and drive meaningful change.

We are united by a shared commitment to promoting health equity. Participants of HEAT will come together to learn, connect and advocate for child and adolescent mental and behavioral health and well-being. 

Series Details 
Please join us for a 3-part interactive, virtual series as we come together as a community to foster learning, connection, and concrete action to strengthen the system of care for children and adolescents and improve their well-being and mental health outcomes.

Over this 3-part series, we will:  
Learn from community, medical, and policy experts
Deepen individual and collective commitment to improving health equity   
Increase knowledge and awareness and build skills   
Gather information and contribute to enacting promising solutions   
Outline a path for taking concrete action steps moving forward 
S̶e̶s̶s̶i̶o̶n̶ ̶1̶:̶ ̶C̶r̶i̶t̶i̶c̶a̶l̶ ̶R̶e̶f̶l̶e̶c̶t̶i̶o̶n̶ ̶a̶n̶d̶ ̶a̶ ̶S̶h̶a̶r̶e̶d̶ ̶P̶a̶t̶h̶ ̶F̶o̶r̶w̶a̶r̶d̶ ̶(̶A̶p̶r̶i̶l̶ ̶2̶6̶,̶ ̶2̶0̶2̶2̶;̶ ̶1̶:̶0̶0̶-̶4̶:̶0̶0̶ ̶P̶M̶ ̶P̶S̶T̶)̶ 
The first session of the series will create space for critical dialogue and provide a landscape analysis to better understand the current state of what happens to children and adolescents with mental health needs across UCSF sites and services.  

Featured Speakers: Local youth, Anda Kuo, MD, Dayna Long, MD, Amy Whittle, MD, Joan Jeung, MD, MPH, MS, Kate Margolis, PhD, Saun-Toy Trotter, MFT, Nooshin Razani, MD, MPH, Petra Steinbuchel, MD, Sabrina Fernandez, MD, Maggie Del Cid, PhD, MS, Melanie Moore, PhD, Chief Executive Officer, Oakland Thrives, Palak Shah, BA, Consultant, Oakland Thrives

Heat Session 1 video recording

HEAT Session 1 Slides.pdf


S̶e̶s̶s̶i̶o̶n̶ ̶2̶:̶ ̶A̶n̶ ̶U̶n̶p̶r̶e̶c̶e̶d̶e̶n̶t̶e̶d̶ ̶R̶e̶f̶o̶r̶m̶ ̶L̶a̶n̶d̶s̶c̶a̶p̶e̶ ̶i̶n̶ ̶C̶a̶l̶i̶f̶o̶r̶n̶i̶a̶ ̶a̶n̶d̶ ̶W̶h̶a̶t̶ ̶I̶t̶ ̶M̶e̶a̶n̶s̶ ̶f̶o̶r̶ ̶B̶a̶y̶ ̶A̶r̶e̶a̶ ̶C̶h̶i̶l̶d̶r̶e̶n̶ ̶a̶n̶d̶ ̶F̶a̶m̶i̶l̶i̶e̶s̶.̶ ̶ ̶(̶M̶a̶y̶ ̶2̶4̶,̶ ̶2̶0̶2̶2̶;̶ ̶1̶:̶0̶0̶-̶4̶:̶0̶0̶ ̶P̶M̶ ̶P̶S̶T̶)̶  
Building upon the landscaping and mental health service map detailed in session one, in this session we will have the opportunity to meet with leaders who are re-envisioning California's systems of care and take a deep dive into unprecedented State reform around behavioral and mental health.  
Featured Speakers: Alex Briscoe, MA, Principal, California Children's Trust, Mark Ghaly, MD, MPH, Secretary, California Health & Human Services, Melanie Moore, PhD, Chief Executive Officer, Oakland Thrives, Thomas Insel, MD, Former Director, National Institute of Mental Health, Lisa Fortuna, MD, MPH, Chief of Psychiatry and Vice Chair at ZSFG/UCSF

HEAT Session 2 Video Recording
HEAT Session 2 Slides.pdf


Session 3: Moving from Promise to Practice: Roadmap for the Future (June 28, 2022; 1:00-4:00 PM PST)
In previous sessions, we described the local and State-level landscape of services to support the mental health and well-being of children and adolescents and have shared opportunities and barriers to a re-imagined system of care. In the third session, we will consolidate what we have learned and identify the concrete steps we must take as providers, policy and system leaders, and advocates to create a shared roadmap to improve the mental and behavioral health and well-being of children and families. 
Featured Speakers: Matt Cook, MBA, George Weiss, MHA, Raphael Hirsch, MD, Bryan King, MD, MBA

Register

Recordings and PowerPoints will be posted after each session. 
Contact Information:
Cassandra Vega, Project Manager 
UCSF Center for Child and Community Health
[email protected]  
Add to Calendar
2022-06-28 13:00:00
2022-06-28 16:00:00
HEAT: Health Equity Action Time
In response to the deepening mental health crisis, the UCSF School of Medicine, Department of Pediatrics, and Center for Child and Community Health launched Health Equity Action Time (HEAT) in 2021. HEAT is a dedicated multidisciplinary forum for child and adolescent providers, community organizations, policy leaders, health system partners, and advocates to come together and drive meaningful change. We are united by a shared commitment to promoting health equity. Participants of HEAT will come together to learn, connect and advocate for child and adolescent mental and behavioral health and well-being. Series Details  Please join us for a 3-part interactive, virtual series as we come together as a community to foster learning, connection, and concrete action to strengthen the system of care for children and adolescents and improve their well-being and mental health outcomes. Over this 3-part series, we will:   Learn from community, medical, and policy experts Deepen individual and collective commitment to improving health equity    Increase knowledge and awareness and build skills    Gather information and contribute to enacting promising solutions    Outline a path for taking concrete action steps moving forward  S̶e̶s̶s̶i̶o̶n̶ ̶1̶:̶ ̶C̶r̶i̶t̶i̶c̶a̶l̶ ̶R̶e̶f̶l̶e̶c̶t̶i̶o̶n̶ ̶a̶n̶d̶ ̶a̶ ̶S̶h̶a̶r̶e̶d̶ ̶P̶a̶t̶h̶ ̶F̶o̶r̶w̶a̶r̶d̶ ̶(̶A̶p̶r̶i̶l̶ ̶2̶6̶,̶ ̶2̶0̶2̶2̶;̶ ̶1̶:̶0̶0̶-̶4̶:̶0̶0̶ ̶P̶M̶ ̶P̶S̶T̶)̶  The first session of the series will create space for critical dialogue and provide a landscape analysis to better understand the current state of what happens to children and adolescents with mental health needs across UCSF sites and services.   Featured Speakers: Local youth, Anda Kuo, MD, Dayna Long, MD, Amy Whittle, MD, Joan Jeung, MD, MPH, MS, Kate Margolis, PhD, Saun-Toy Trotter, MFT, Nooshin Razani, MD, MPH, Petra Steinbuchel, MD, Sabrina Fernandez, MD, Maggie Del Cid, PhD, MS, Melanie Moore, PhD, Chief Executive Officer, Oakland Thrives, Palak Shah, BA, Consultant, Oakland ThrivesHeat Session 1 video recordingHEAT Session 1 Slides.pdfS̶e̶s̶s̶i̶o̶n̶ ̶2̶:̶ ̶A̶n̶ ̶U̶n̶p̶r̶e̶c̶e̶d̶e̶n̶t̶e̶d̶ ̶R̶e̶f̶o̶r̶m̶ ̶L̶a̶n̶d̶s̶c̶a̶p̶e̶ ̶i̶n̶ ̶C̶a̶l̶i̶f̶o̶r̶n̶i̶a̶ ̶a̶n̶d̶ ̶W̶h̶a̶t̶ ̶I̶t̶ ̶M̶e̶a̶n̶s̶ ̶f̶o̶r̶ ̶B̶a̶y̶ ̶A̶r̶e̶a̶ ̶C̶h̶i̶l̶d̶r̶e̶n̶ ̶a̶n̶d̶ ̶F̶a̶m̶i̶l̶i̶e̶s̶.̶ ̶ ̶(̶M̶a̶y̶ ̶2̶4̶,̶ ̶2̶0̶2̶2̶;̶ ̶1̶:̶0̶0̶-̶4̶:̶0̶0̶ ̶P̶M̶ ̶P̶S̶T̶)̶   Building upon the landscaping and mental health service map detailed in session one, in this session we will have the opportunity to meet with leaders who are re-envisioning California's systems of care and take a deep dive into unprecedented State reform around behavioral and mental health.   Featured Speakers: Alex Briscoe, MA, Principal, California Children's Trust, Mark Ghaly, MD, MPH, Secretary, California Health & Human Services, Melanie Moore, PhD, Chief Executive Officer, Oakland Thrives, Thomas Insel, MD, Former Director, National Institute of Mental Health, Lisa Fortuna, MD, MPH, Chief of Psychiatry and Vice Chair at ZSFG/UCSFHEAT Session 2 Video Recording HEAT Session 2 Slides.pdfSession 3: Moving from Promise to Practice: Roadmap for the Future (June 28, 2022; 1:00-4:00 PM PST) In previous sessions, we described the local and State-level landscape of services to support the mental health and well-being of children and adolescents and have shared opportunities and barriers to a re-imagined system of care. In the third session, we will consolidate what we have learned and identify the concrete steps we must take as providers, policy and system leaders, and advocates to create a shared roadmap to improve the mental and behavioral health and well-being of children and families.  Featured Speakers: Matt Cook, MBA, George Weiss, MHA, Raphael Hirsch, MD, Bryan King, MD, MBARegister Recordings and PowerPoints will be posted after each session.  Contact Information: Cassandra Vega, Project Manager  UCSF Center for Child and Community [email protected]  
[email protected]
Department of Pediatrics
America/Los_Angeles
public