Programs, Tracks and Pathways
Vision and Overall Design
Our vision is to train residents to become outstanding clinicians and leaders who advance the health of infants, children, and adolescents throughout the world. To achieve this vision, we offer 3 separate match programs, 3 clinical tracks, and 4 pathways. The overall design is depicted in the diagram that follows.
The following flow diagram demonstrates the overall organization of the training program: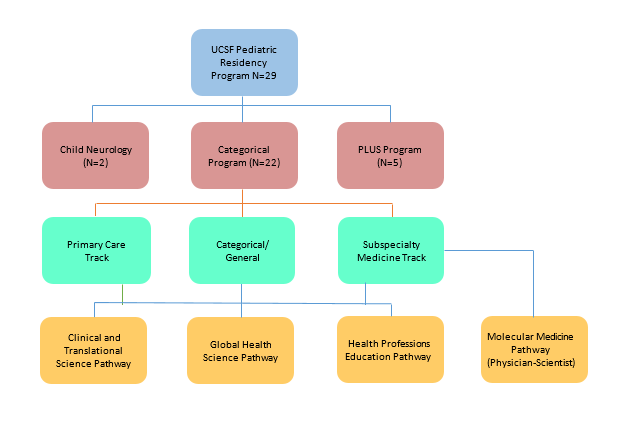 Each year we match 29 total residents into 3 programs.
Categorical Program (22 residents): Provides broad clinical training to prepare graduates to enter any area of primary care or sub-specialty pediatrics. In addition, residents have numerous opportunities to individualize their training through clinical tracks and pathways.
Pediatric Leadership for the Underserved [PLUS] Program (5 residents): Provides extensive leadership training in the context of clinical training to prepare graduates to lead transformational change to improve the health of underserved populations of children.
Child Neurology Program (2 residents): Provides 2 years of foundational pediatric training to prepare graduates for further training to become a child neurologist.
All program options share a common foundational curriculum of general and subspecialty-based clinical experiences in inpatient, ambulatory, newborn, and neonatal and pediatric intensive care settings. Residents learn to take on progressively increased responsibility for patient care, teaching, and leading inter-professional teams in all three programs.
TO APPLY, please click on application process for details. Note that EACH PROGRAM HAS SEPARATE ERAS APPLICATION MARKERS AND UNIQUE NRMP NUMBERS.
KEY FEATURES
Our training programs are designed to provide a wide range of training experiences to help you achieve your training goals and develop your individual passions in pediatrics. The following elements are key features:
Individualized Training Through Clinical Tracks and Pathways
As a key part of individualized training at UCSF, residents who match into the Categorical Program may choose to participate in one of 3 clinical tracks (Primary Care, Subspecialty Medicine and General/Categorical) and/or 4 pathways (Clinical and Translational Science, Global Health Sciences, Health Professions Education, and Molecular Medicine).
Clinical tracks are designed to allow residents to explore and build skills in a focused area of clinical pediatrics. Tracks are about career exploration and by no means represent a career commitment or destination.
Pathways provide residents an opportunity to enrich their training experience by developing a set of skills that could be useful across a broad range of clinical areas of pediatrics. We think of pathways as a way for residents pursue and build upon their individual interests and passions or as a way to explore new interests and passions.
Click on the clinical tracks or pathway links to learn more.
Longitudinal Design
In large part, our program provides longitudinal training experiences where residents are assigned to 8-12 week blocks, rather than 4-week clinical rotations. The advantaged of longitudinal experiences is that they reduce fragmentation and improve the training experience. Longitudinal training provides residents with more opportunity to integrate into clinical systems and assume greater autonomy and take on more authentic roles. Longitudinal experiences also provide residents more time with faculty supervisors, which in turn help enhance the quality of assessments and feedback.
Follow this link to see an example of a typical block schedule.
Assessment and Advising for Learning
In 2016 we redesigned our assessment and advising programs to better support the professional and career development of residents. The key elements are: (1) an assessment system that better aligns with what residents need and want to learn, and (2) an advising system that helps residents use feedback from assessments to develop meaningful and useful individual learning goals.
Assessment System
We have adopted the Pediatric Entrustable Professional Activities (EPAs) as the framework for assessment of residents' skills and development. The concept is that residents work to develop a portfolio of a large number of low-stakes EPA assessments. Residents and faculty supervisors complete brief (2-3 minutes) EPA assessment together, which also serves as the framework for in-person feedback. The portfolio of EPA-based assessments serves as written feedback to assist residents with developing individual learning plans.
Advising and Mentoring System
Each resident is assigned a core faculty advisor. The role of the advisor is to meet with each of their assigned residents on a quarterly basis to review assessments and assist the resident in creating an individual development plan (IDP). The IDP consists of both learning and career-development goals. Faculty advisors also assist residents in identifying appropriate career, project, and research mentors.
PROGRAMS
Categorical Program
The goal of the Categorical Program is to provide outstanding clinical training to prepare residents to enter any field of general or subspecialty pediatrics. At a minimum, residents spend one half-day each week in continuity clinic and augment core clinical training with subspecialty experiences and a broad range of electives. Residents in this program are eligible to participate in one of three clinical tracks and/or one of four interest-based pathways.
Call schedule and duty hour information
PLUS Program
The Pediatric Leadership for the UnderServed (PLUS) program was inspired by the impact of health disparities on children in the United States and around the world. In our view, there is an urgent need to train pediatricians to lead transformative change in the health care system. The vision of the PLUS program is to train and inspire future leaders in pediatrics to lead transformative change to improve the health of underserved populations of children. Follow this link to learn more about the PLUS program and curriculum.
PLUS is based at San Francisco General Hospital (SFGH) where all PLUS residents attend continuity clinic and work in mentored cohorts. Residents in PLUS are fully integrated into the UCSF Pediatric Residency Program and clinical training includes all components required to become an outstanding pediatrician. Although many PLUS residents do pursue careers in primary care pediatrics, many PLUS residents also go on to sub-specialty careers.
PLUS-specific program features include:
Protected time for conferences and seminars with local and national leaders in health care, core skill sessions (e.g. leadership skills, media training, grant writing, epidemiology),
PLUS activity group meetings, mentorship with experienced faculty and community leaders, journal clubs, and leadership involvement with community organizations.
All residents in the PLUS program are required to complete a longitudinal project with faculty and peer mentorship.
We invite applications to the PLUS Program from individuals with a demonstrated longstanding commitment to working with underserved populations of children through advocacy, health policy, research, or other ways.
To learn more about the PLUS program, application procedures and see examples of current and past projects please see the PLUS Website.